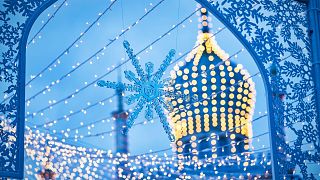 The spectacular light installations and classical music completed the magic at the world's second-oldest amusement park to celebrate its 175th anniversary on the first weekend of February. Tivoli Gardens in central Copenhagen is marking the anniversary with a gigantic winter lights festival.
Among the highlights are a colossal Greenland igloo, an icy forest and an octagonal ice skating rink with 200,000 lights.
Tivoli has traditionally used old yellow-toned light bulbs in its displays. This year, the amusement park has switched to LED lights which light designer and curator of the Copenhagen Light Festival, Jesper Kongshaug, says give more colours and offer what the Danes call "hygge", meaning "cosy, charming or special".
Tivoli Gardens opened its gates on August 15, 1843 and made a huge influence. 
Hans Christian Andersen was among the first guests and he was inspired to write the fairy tale the Nightingale.
Walt Disney was said to have been inspired by the theme park's atmosphere and mood, too. He paid several visits to Tivoli, before opening Disneyland in 1955.
The Tivoli Garden display kicked off the Copenhagen Light Festival, which runs through March 2. The festival features installations and displays by international artists.