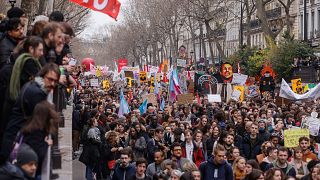 -
Copyright

AP Photo/Thomas Padilla
By Euronews Travel with Reuters
Europe is a hive of strike action right now, with many employees unhappy that sky-high inflation has not been matched by higher wages.
Walkouts are planned all over Europe, showing that it always pay to check before you travel.
Luckily, we have gathered all of the strike information together below.
Read on to find out where and when are walkouts taking place.
If your flight or train is cancelled or delayed, you will be entitled to a new ticket or compensation. Read our guide for the full details.
Spain: Strikes at 17 Spanish airports
Some of Spain's busiest airports are facing strikes by unionised workers at ground services and cargo handling company Swissport between now and Easter.
From 27 February to 13 April, they have called for a series of 24-hour walkouts every Monday, Tuesday and Thursday.
Swissport Handling provides services at Madrid-Barajas, Barcelona-El Prat, Reus, Alicante, Valencia, Murcia, Málaga, Almería, Salamanca, Valladolid, Burgos, Logroño, Zaragoza, Huesca, Lanzarote, Gran Canaria and Tenerife Sur airports.
Unions will have to provide minimum services, as is required by Spanish law, so it isn't yet clear what impact the strikes will have on passengers.
Portugal: Warning for Easter travellers in Portugal
Easyjet cabin crew in Portugal will go on a three-day strike in early April to demand higher wages to compensate for the soaring cost of living.
The walkout will affect flights to and from Portugal from 1 to 3 April. Easyjet has said it is likely to affect Lisbon, Porto and Faro airports.
The SNPVAC union, which is coordinating the action, said "Due to the economic climate, easyJet workers have lost purchasing power over the last three years...The increase in the cost of living suffocates workers and jeopardises the well-being and comfort of their families."
In response, Easyjet said, "It is not possible to compare terms and conditions across different jurisdictions. We are disappointed with this action, especially given the significant investment we have made in the country in recent years which has created hundreds of new jobs in Portugal and hope that SNPVAC will resume a constructive dialogue with us."
Germany: Public sector pauses strikes
German public sector works have entered an arbitration period after inconclusive talks over pay. It means that strikes which have hit the transport sector in recent weeks are effectively suspended until after the busy Easter holiday period. 
This week a "megastrike" caused widespread travel chaos. Two of the country's biggest transport unions, representing a majority of transport workers, called for industrial action. It brought railways and airports to a standstill and was Germany's biggest walkout in more than three decades. 
France: Travellers warned about ongoing French pension protests
Unions across France have been in an ongoing battle against an increase in the legal retirement age from 62 to 64.
Protests have broken out across the country after President Emmanuel Macron decided to push the change without a parliamentary vote. Rubbish has built up in Paris and was set on fire. Protesters have also clashed with police in the French capital. 
The French civil aviation authority, the Directorate General of Civil Aviation (DGCA), has asked airlines across the country to cancel flights on Saturday 1 and Sunday 2 April as air traffic controllers go on strike over the pension reform. 
Around 20 per cent of flights operating out of Toulouse and Bordeaux airports will not run on Saturday. On Sunday, 25 per cent of flights at Paris-Orly and 20 per cent of flights at Toulouse, Bordeaux and Nantes will be cancelled. 
Travellers are being advised to check with airlines whether their flight is still scheduled before leaving for the airport. 
Unions have also called for an 11th day of protest action across several sectors - including transport - on Thursday 6 April. 
Travellers haven't been advised to avoid France but the UK Foreign Office has urged people to keep an eye on media reports and check the latest advice from operators to avoid demonstrations.
"If demonstrations do turn violent, a heavy police/gendarmerie presence is to be expected. In all cases, you should avoid demonstrations wherever possible and follow the advice of the local authorities," it said in a statement.
In particular, tourists are advised to avoid the Place de la Concorde, located between the Champs-Élysées and the Jardin des Tuileries, the National Assembly and the eighth arrondissement as these are assembly points for protests.  
UK: Disruption likely during the Easter holidays
1,400 security guards at London's Heathrow Airport are going on strike over the Easter holidays.
The guards who work in Terminal 5, the main portal for British Airways and where many international flights depart and arrive, will be walking out for 10 days from 31 March until 9 April.
On the first day of the strike, British Airways cancelled 72 flights affecting an estimated 10,000 passengers. More than 300 could be cancelled during the 10 days of action. 
They are striking over low pay, after rejecting the airport's offer of a 10 per cent pay increase. Unite union secretary general Sharon Graham says Heathrow workers are on "poverty wages while the chief executive and senior managers enjoy huge salaries." A security guard at Heathrow is paid as little as £24,000 (€27,400) a year, according to the union.
The union says the "strike action will cause huge disruption and delays at Heathrow throughout Easter." But Heathrow says contingency plans will be in place to ensure the airport stays open, saying it will be "open and operational despite unnecessary threats of strike action by Unite".
British Airways have announced they will be cancelling 32 flights a day during the disruption, totalling more than 300 flights.
"We've apologised to customers whose travel plans have been affected and have offered them a range of options, including rebooking onto a new flight with us or another airline, or requesting a full refund," a British Airways spokesperson said.
UK: When are UK passport workers on strike?
Although this strike doesn't affect any transport services, it could stop you from taking a trip.
More than 1,000 members of the Public and Commercial Services union (PCS) working in Passport offices in England, Scotland and Wales are to walk out from 3 April until 5 May.
The strike will involve those working in Durham, Glasgow, Liverpool, London, Newport, Peterborough and Southport.
The Business Travel Association estimated that more than one million passport applications are due to be processed during the strike period.
UK: Passport checks could take longer on strike day
Passport workers are set to walk out on 28 April, in the latest round of industrial action.
The PCS union, which represents hundreds of thousands of government workers, as well as those at the Maritime and Coastguard Agency, has been calling for a pay rise, better pensions, job security and no cuts to redundancy terms.
The good news is that previous passport walkouts have not resulted in long queues at UK airports.
Italy: Airport workers to take part in a nationwide strike
Italy's ENAV air traffic controllers will strike from 1pm to 5pm on 2 April. This will be nationwide.
For more information about the likely impacts, check the ENAV website closer to the date.
If you know of a big strike happening in your country that we have missed, we'd love to hear from you via Twitter.