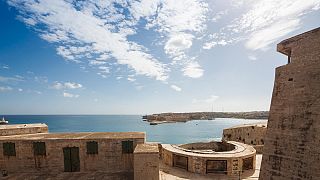 Sunset over Europe's most boisterous, most electrifying natural harbour. There is no anchorage on the continent that makes the hairs on the back of your neck stand up like this – not even Mahon or Le Havre or Milford Haven or Stockholm.
The wrinkled fingers of the Three Cities poke out into the Grand Harbour as if they belonged to the hand of a dainty morning lido swimmer who's seen a few things and broken a few hearts over her decades.
If these walls and these cities could tell stories, those stories would stretch back beyond the 1500s when the Knights of St John arrived and turned Malta into a unique fiefdom, the last stop on the road to the East.
Malta is surrounded by water, but with abundance comes, perhaps, a certain amount of neglect. We use what we have around us, we don't take care of it, we don't protect it. It takes a tragedy to wake us up. Even a small one.
"We had to lash the deck chairs down last night!" says a member of staff from the Cugo Gran Macina Grand Harbour Hotel as we step out onto the windy rooftop pool deck, watching the clementine sun dip behind the church spires of Birgu and the masts of yachts bobbing up and down in the marina co-opted by the Royal Navy until 1979. "It was quite a storm!"
Last night's storm reminds us that nature can do its worst to us, not just a marauding band of Ottomans or French or British or Germans or Italians or any of the other armies that tried to conquer Malta's breathtaking defences by land or from the air.
Those walls are quite simply the most impressive piece of monumental military defence architecture in Europe. The whole rocky isle feels like it is one giant castle. The only way in: the Grand Harbour.
Now, the Cugo Gran Macina is leading a group of businesses and other hotels to try and protect the harbour by clubbing together to invest in sea bins which seek to suck up waste and make the waters cleaner – also attracting more marine life.
The initiative is also masterminded by Żibel - an NGO dedicated to keeping Malta clean. The sea bins filter 25,000 litres of seawater per hour and remove 1.5 kilos of floating debris per day - including harmful microplastics up to 2mm small.
For centuries Maltese (and more problematically their masters) used all the natural resources they could get their hands on. Malta thrived but the waste and the fuel from ships and industry polluted the waters.
The constant building that the island has developed something of a passion for, means more resources used up too. There are close to half a million people on this tiny rock off Italy.
One solution, as tried by Cugo Gran Macina, is adaptive reuse. This former crane house down on the docks at Senglea was also, weirdly, used as offices by Malta's ruling political party after the crane came down. But now there are a score of suites instead – which do their best to minimise environmental damage too.
The Cugo Green programme is at the centre of this policy. Signs placed on the beds encourage guests to think before asking for room servicing or towel laundering, and to switch off lights and appliances. All of these activities waste vast quantities of energy. Glass bottles of water, not plastic, are placed by beds and recycled once used.
In the Hammet's Macina restaurant, sustainably caught snapper is served and biodegradable straws are placed in big glasses of Mai Tais. "People haven't really thought about the environment of the island that much in the past," General Manager Roberto Russo tells Living it.
"But that is changing now. We are trying to do our bit like all Maltese. I want us to use this opportunity to conquer our pollution challenges and to bring a new culture and mindset to all people who share these Maltese Islands... to be leaders in building a new and sustainable future."
Of course all tourism is wasteful – getting on planes for no particular reason, filling swimming pools with scarce water. It all takes a toll. But baby steps can encourage positive change. And Malta has realised that, especially when it comes to its peerless harbour, protection and affection can mean a lot.
Fly to Malta withWizz Air
Writer: Christopher Beanland