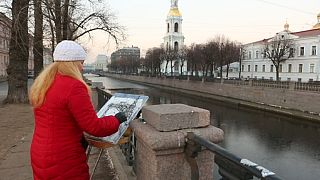 Varya Kozhevnikova is a blogger and photographer from Saint Petersburg. She first came to the city as a tourist but liked it so much that she moved there permanently. She thinks that her friend Mikhail Pavlovski is one of the best photographers in Saint Petersburg.
He said that the city is a good place for people wanting to find their inner selves. "There's an eternal Dostoyevski in human nature here – and I think that makes the city very interesting."
Dostoeyvski lived and worked in Saint Petersburg and there are lots of bookshops there. One of them has a slogan: "In Saint Petersburg, you look silly without a book".
Out shopping there are all sorts of wonders in the hidden courtyards that are emblematic of Saint Petersburg – like tiny second-hand dress shops. Creative people love to experiment with retro and vintage styles.
Erarta is the modern art museum, containing one of the largest private collections of Russian art. Galina Zhushman, who works there, said: "St. Petersburg is a young city compared to Moscow, and it has always had an innovative spirit. The public here is open to changes, to new things coming up, to moving forward as you live."
Vasilevsky Island is a creative hub for anyone looking to engage in arts: some people dance, others draw paintings, or come here to study at a theatre studio, training to become an artist.
Olga Belinskaya, is an acting coach at the "Light People" studio and said that things are moving on in Saint Petersburg: "Before, many artists here wanted to go to Moscow; they felt more was happening there, but now that's changed. People don't leave anymore – in fact, artists from Moscow have started to move here!"
When the sun sets and lights start to shine, the city doesn't go to sleep – people go out to have fun! Of course, young people are attracted by the city's art, its creativity, knowledge, freedom, and white nights. It's so romantic you want to drink it all in! Saint Petersburg has it all.