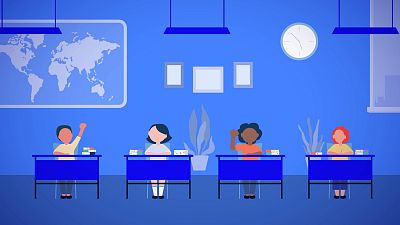 How much child poverty is there in Europe?
In 2020, 24.2 % of children in the EU were at risk of poverty or social exclusion. Households with a single person looking after children had the highest risk of poverty or social exclusion at 42.1%
There is a variety in levels of child poverty across Europe. The highest are 41.5% in Romania and 36.2% in Bulgaria and the lowest is 12.1% in Slovenia.
The Covid-19 pandemic has worsened the situation, leading to higher levels of financial insecurity, poverty and income inequality.
What are the consequences for children living in poverty?
There are life-long consequences for children who grow up in poverty.
Statistically, they are more likely to dropout of school, have fewer chances to find decent jobs later, suffer from social exclusion and health problems in the future.
This often creates a cycle of disadvantage, with the next generation also more likely to grow up in poverty.
What is being done to break the cycle of poverty in the EU?
The EU's European Child Guarantee aims to break the cycle of child poverty. The Guarantee sets out access to key services for all children including free education and after-school activities, free healthy school meals, healthcare, good nutrition and decent housing.
This puts into action the European Pillar of Social Rights on child care and support to children.
One year after the launch in March 2021, EU countries have to submit their national action plans to the European Commission, explaining how they will put the Child Guarantee into action. They will then have to report back on their progress every two years.
One of the ways of implementing the Child Guarantee is with money from the European Social Fund Plus (ESF+) which has a €88 billion budget for 2021-2027. Countries where levels of child poverty are at or above the EU average, must spend at least 5% of the funds they receive on tackling this and other countries are also encouraged to use ESF+ funding.
The EU Strategy on the Rights of the Child reinforces the rights set out in the Charter of Fundamental Rights of the EU and the United Nations Convention on the Rights of the Child.