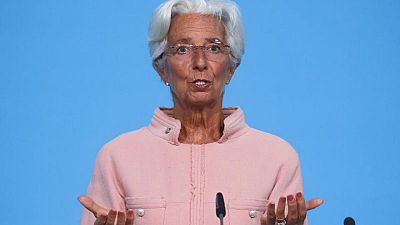 -
FRANKFURT -Inflation in the euro zone could exceed the European Central Bank's already raised projections but there are few signs of this already happening, ECB President Christine Lagarde said on Monday.
Lagarde stuck to the ECB's official view that inflation will ease back below 2% next year but seemed to acknowledge growing concerns, including inside the central bank, that higher price growth might be here to stay.
"While inflation could prove weaker than foreseen if economic activity were to be affected by a renewed tightening of restrictions, there are some factors that could lead to stronger price pressures than are currently expected," she told lawmakers at the European Parliament.
"But we are seeing limited signs of this risk so far, which means that our baseline scenario continues to foresee inflation remaining below our target over the medium term," she added.
Euro zone inflation hit 3% in August. The increase was largely fuelled by energy costs but the price of industrial goods and food rose too, reflecting in part insufficient supply as the economy came alive after a pandemic-induced lethargy.
The ECB, which is scaling back its pandemic emergency asset purchases and is expected to stop them in March, expects price growth of 2.2% this year, 1.7% the next and 1.5% in 2023.
But the Bundesbank said earlier on Monday German inflation was likely to accelerate from already high levels and stay above 2% through mid-2022. And data showed Spanish industrial production prices rose 18% year on year in August.
Fielding questions from parliamentarians worried about runaway prices, Lagarde said the ECB "every reason to believe" that the rebound in energy prices and supply bottlenecks would ease next year.
"We have every reason to believe that they are not going to be lasting factors and be reduced in the course of 2022 in particular," Lagarde said.
Sources have told Reuters ECB policymakers were open to expanding the ECB's regular Asset Purchase Programme for a limited time when emergency bond purchases stop.
The APP follows stricter country quotas and doesn't include Greece due to its low credit rating.
Lagarde said Greece's inclusion would be discussed later this year or in early 2022.