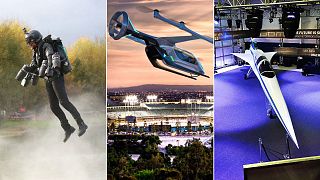 Copyright

Gravity Industries/Embraer/Boom Technology
The biennial Farnborough airshow takes off once again on July 16. Over 1,500 exhibitors from the aerospace, defence, security and space industries will be there to showcase cutting-edge innovations and debate the issues that are plaguing – and shaping – air travel today.
Inventors, business leaders, and government influencers from around 100 countries, including some of the biggest names in aviation, will descend on Hampshire, England, to pitch products, invest, network, and announce billion-dollar deals in the largest civil and military air show outside Paris' Le Bourget.
Around 80,000 enthusiasts from across the UK and overseas are also expected to attend during the week-long event, where sustainability, super-speed travel, and, inevitably, the impact of Brexit and Trump will be on the menu.
Aerospace 4.0
Aerospace 4.0 is a marketing catch-all term for innovations which are causing a shift in aviation manufacturing. These include autonomous robots, virtual reality, cybersecurity, big data, and 3D printing.
Embraer X will unveil their electrical Vertical Take-Off and Landing 'air taxi' concept at the airshow
Dramatic advancements like 5G connectivity, electric propulsion, flying taxis, and hypersonic travel in a post-Concord era are also shaking up the aerospace industry. Expect to see insightful debate and dramatic unveilings next week, heralding modern milestones in the aviation world.
Iron Man
Real-life 'Iron Man' Richard Browning will demonstrate his £250,000 Gravity Jet Suit over the runway in Farnborough. Jet engines mounted along the arms and back of the outfit can produce 144 kg worth of thrust to lift the wearer and allow them to fly as they use their limbs to control its speed, and direction.
"Alongside other leading industry pioneers, Gravity will be shining a light on a whole new era of aviation now made possible," said Gravity Industries CEO Browning in May.
The 'world's first' flying car production model, the PAL-V Liberty, will also take flight at the event, as well as Japan's first wholly-homegrown commercial aircraft for 52-years — the Mitsubishi Regional Jet.
Cargo
It's far from sexy, but cargo is still performs an essential role in aerospace, and this year, the organisers of the Farnborough air show are upping the ante by launching their first ever conference on the subject.
"FIA 2018 ... will look at some of the developing methods of cargo deliveries, the importance of cargo to the UK economy, and overcoming the challenges of moving special cargoes for market segments such as healthcare, aerospace and humanitarian logistics," said Robert van de Weg, Vice President of Sales and Marketing from sponsoring Volga-Dnepr Group.
Brexit and Trump
Just a few weeks ago, Aerospace giant Airbus warned Westminster against pursuing a no-deal Brexit with the European Union, which they fear would lead to "severe disruption and interruption of UK production" and force them to reconsider their future in Britain. The EU-UK wrangling also threatens to limit native airliners' access to European skies.
Meanwhile, US-imposed steel and aluminium tariff hikes in sent shockwaves through the industry when they were announced in March. Both issues will undoubtedly influence talks at one of the largest draws for aviation investment in the world.