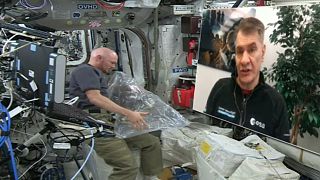 With whoops and cheers from the crew, the Shuttle Atlantis blasted off ten years ago with Europe's Columbus module on board, bound for the International Space Station.
Since then ESA's orbiting science lab has been used to grow plants, research new metals and probe astronauts' blood, bodies and brains.
The 10-tonne module may look somewhat chaotic, with its cables and experiments floating around the walls, floor and ceiling, but it is a familiar place for ESA's astronaut corps. Recently returned spaceman Paolo Nespoli tells Euronews: "To a European astronaut, it's a little bit like home. By definition, by default, when a European astronaut flies, he, he or she, is responsible of Columbus, of the laboratory itself. Which means maintaining it, make sure that everything works."
Columbus was launched on 7th February 2008 and attached to the International Space Station over the course of one day, with ESA's Leopold Eyharts overseeing proceedings.
"I was lucky to be part of this mission and to be the first European astronaut to get into Columbus and to turn on the lights," the French astronaut remembers.
Showing us around the mock-ups used for training at the European Astronaut Centre in Cologne, he tells us: "So the module inside is very well organised. This is a scientific laboratory, so we of course a lot of scientific facilities."
"Here we have a microgravity environment which is permanent, so we can do experiments with a long exposure to microgravity, so there's a continuity in the science."
Being able to carry out and repeat experiments has yielded groundbreaking results, like research into how plants cope in weightlessness. The scientists behind the research want to develop systems to produce food for astronauts on long-term missions.
Ann-Iren Kittang Jost from Norway's Centre for Interdisciplinary Research in Space explains to Euronews: "We actually can grow plants in microgravity, or weightlessness. Plants they can adapt, they can germinate from seed, they can go through the whole life cycle, and produce new seeds, so actually they can adapt quite well to these conditions, and that's quite fascinating."
Another series of experiment, called Expose, saw lifeforms from Earth exposed to the universe outside the Columbus module. They were fixed in trays in the vacuum of space for a year and a half, some in the Sun, some in shade, to test how hardy they really are. The result was positive, with several microorganisms that were not exposed to extreme UV rays managing to survive.
Elke Rabbow, from Germany's DLR, took part in the project: "Together with these trays we sent up different microorganisms, from bacteria, up to lichens, and also some larvae of different animals. And indeed when they came back, several of these organisms survived."
The International Space Station began with Russia's Zarya module in 1998, and now has science labs from Japan, Russia and the US alongside ESA's Columbus.
The astronauts on board follow a busy schedule of experiments, many of them on themselves.
They test how their muscles, bones, blood and brains react in space. One surprise finding from an experiment called Neurospat found that astronauts' brains have reduced electrical activity and performance in space. There is no clear reason why, although Hungarian Professor Laszlo Balazs, who was a co-leader of the experiment believes it could be a combination of factors.
"Microgravity affects circulation and also influences brain circulation. We don't know the exact mechanisms, but the oxygen supply to the brain could be worse than it is on the ground. Also, the astronauts are working on a tight schedule, so they might be exhausted mentally, and also they suffer from sleep problems," he explains.
Meanwhile another group, headed by Thomas Berger from DLR, has been tracking radiation - one of the greatest dangers that astronauts face. In an experiment called Dosis3D, they mapped how radiation varies around the Columbus module, and found other factors make a difference too.
"Since Dosis3D is running over a very long time time, we could also see the changes in the radiation environment due to the fact that for example the space station was lifted up by 70 kilometres in altitude - that changed the radiation environment. And then we could see variations due to the solar cycle, depending if the Sun is very active or not," Berger says.
Experimenting in a weightless environment is unique, and Columbus is the only place scientists can study how new metal alloys solidify without the influence of gravity, information which has proved helpful and revealing in developing new high-performance metal alloys. The key instrument for this science, called the Electromagnetic Levitator, is controlled from the ground, but the researchers rely on astronauts for essential hands-on help.
Materials Scientist Thomas Volkmann from DLR explains one of their roles: "Astronauts are important for us, they installed the facility, they, for instance, change camera systems. So for different experiments we need for example cameras with high spatial resolution, or for other experiments we need a high frame rate. So this change of camera has to be done by astronauts."
That cooperation between astronauts in orbit and scientist on the ground will continue, with the ISS expected to remain active for another 10 years, and their research will inform exploration of the Moon, and later Mars.
"The International Space Station is also a very good tool for preparing the future of exploration," says Leopold Eyharts. "It can be on the medical side, on the study of the human body, but also the technology, robotics and all these kinds of things which will be used in future exploration."
In the meantime, ESA astronauts' home from home in orbit will continue to push out big science from a small lab. "It's incredible that in a space relatively small, because in the end it's a module, it's like a room, you can do anything you want that has to do with science in space," enthuses Nespoli, who has just finished his third mission to orbit.