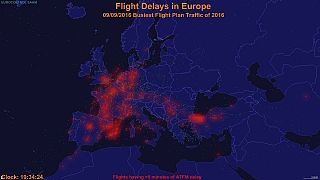 Last year almost 10 percent of the approximately 10 million flights through Europe had a delay of at least half an hour.
It is a sensitive issue not only for passagers, but also for airlines, air traffic controllers and the environment. What can be further done to improve the situation?
Weather, strikes, technical problems, shortage of capacity in airports or in the air causes of delays are diverse. Consequences are challenging for everyone.
Last year almost 10 percent of flights thorough Europe had at least a half hour delay, despite multiple efforts from the entire sector to prevent them.
Thomas Cook Airlines maintains, for instance that last year any delays lasted an average of just 17.6 minutes. But there is always room for improvement.
"Where we do see an increase in delays is in airports that are operating to their maximum capacity and it just requires a small impact at that airport to have a cascade that affects a lot of airlines, not just us," explained Andrew Thorington, pilot, Thomas Cook Airlines.
Aircraft are closely scrutinised to avoid any delay linked to technical faults. But other causes are out of the hands of airlines. So, they say, to prevent them they need to team up.
"The delays are always going to be there. It is how we manage them, the tools we manage them with. We have a direct contact at Eurocontrol with whom we can discuss major delays, see what we may possibly do about things.
'Tools that have been developed currently are slot swapping tools with which we can swap slots between aircrafts within the group and any other airline. So we are not wasting capacity in the network," Chris Woodland, Flight Planning Manager, Thomas Cook Group pointed out.
#SkyFusion grows stronger with FAANews</a> & <a href="https://twitter.com/eurocontrol">eurocontrol participation to deliver improved airspace efficiency https://t.co/pAshI2nKeUpic.twitter.com/UezpOJ4Gba

—

IATA

(@IATA) March 6, 2017
In partnership with Europe's air traffic controllers, Eurocontrol network manager works to minimise flight delays. And that's a daily challenge.
An animation shows in red the distribution of delayed flights on a given day.
"The airlines work in very close collaboration with us. We have over 2,000 connections to all of the different airlines and airports that are operating through Europe. If they've a slight problem in loading a flight they might look to get an extension of their scheduled time of departure. And our role is to help the airlines to meet their schedules and get the passengers safely there on time," explained Brian Flynn, Head of Performance, Forecasts and Relations unit, Eurocontrol.
Eurocontrol also works to ensure that air transport can have as little impact on the environment as possible, finding the fastest and yet more carbon footprint friendly routes, so passengers get a more sustainable service.
"The guest wants to get on holiday or wants to get back from holiday or maybe on a scheduled services so it is important to deliver that quality service to make sure that at the end of the day our guests are impressed enough with us that they want to come back," concluded pilot Andrew Thorington.
Quality service that the entire sector says it wants to keep delivering in the areas of safety, capacity, environment flight efficiency and cost-effectiveness – always on time.
Virtual Reality Advertising & 360 Video VR Player