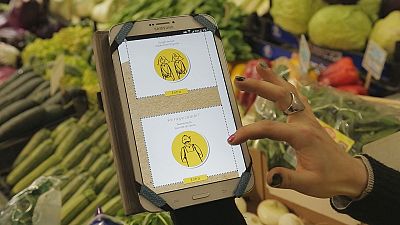 Unleashing the power of the collaborative economy to fight food waste, while creating new business opportunities at the same time. This is already happening in Italy, so Business Planet went to find out more…
Euronews' Giacomo Segantini knows only too well that his homeland is a country rich in cooking traditions, and which even dedicated the 2015 Expo in Milan to food.
euronews:
"Simone Molteni, you were in charge of the Expo's editorial content: what can you tell us about the issue of food waste?"
"In Italy alone we waste more than 10,000 tons of food every day. Globally, while 900 million people starve, one third of the food produced gets thrown away every year. Including social and environmental costs, that's worth more than 2.6 trillion dollars," says the Scientific Director of LifeGate, Simone Molteni.
But now someone has come up with a way to make the food system more efficient. For the sake of sustainability, but also for the sake of business growth.
In Turin a small grocer checks which fruits and vegetables are about to expire.
She then uses the Last Minute Sotto Casa app – 'last minute next door' – to send an alert, saying she is selling the perishables at half-price.
Registered users living nearby are instantly notified on their smartphones, along with the location of the store.
Or take the case of butcher shop Brezzo's. A 40%-off offer on meatballs was once so successful that they had to start making new ones!
euronews:
"You've been using the app for a year now. What do you think?"
Rosanna Brezzo:
"We like it because it brought new customers to our store!"
The app is a great example of the collaborative economy, where every party involved wins.
Last Minute Sotto Casa was co-founded by Francesco Ardito:
"The retailer wins: he cashes in money he wouldn't have gotten otherwise and sees new people entering the store. The customer wins, as he gets a big discount on fresh products. And, of course, the planet wins," he says.
Created one year and a half ago in the enterprise incubator of Turin's Politecnico, Ardito's Italian startup was among the 10 finalists at the 2015 European Social Innovation Competition. It already employs 5 people.
"We have 50,000 registered users, around 1,000 small retailers, and the system is now active in several Italian cities. But, most of all, almost 3 tons of food every month avoids being thrown in the trash bin," claims Ardito.
The app's potential, in terms of data gathering and customer engagement, has not gone unnoticed: the team is now backed by a leading provider of food vouchers. Their plan: expand in Italy and then set foot in Spain and Portugal.
Back in Milan euronews asked Simone Molteni what can be done, ultimately, to defeat a global issue such as food waste?
"The greatest problem is the dispersed multitude of small retailers, each with its own little share of food that could go to waste. Last Minute Sotto Casa is an innovative solution which leverages people's increasing interest for a sustainable lifestyle," she says.
euronews:
"Say I'm an SME with an idea related to sustainable development issues. What would you suggest I do?"
Simone Molteni:
"Find the right partner. At the LifeGate Future Lab we select the best startups and try to make them grow in many ways: we connect them with our 5-million people community, and we introduce them to enterprises willing to act as 'incubators'."
For more information please visit our website, and don't miss our next edition of Business Planet!
Collaborative economy: a new way to fight food waste
Around 100 million tonnes of food are wasted annually in the EU. Reducing food waste improves resource efficiency, saves money and lowers the environmental impact of food production and consumption.
Social innovators can contribute to the reduction of food waste. They can design public services that are better tailored to citizens' needs and greater value for money.
To boost social innovation and turn societal challenges into new sources of growth, the European Commission has been organising the European Social Innovation Competition since 2012.
An Italian company, Last Minute Sotto Casa, took part in the 2015 competition and was selected amongst the 10 finalists.
They are offering an original and effective tool to avoid waste of unsold fresh food. Thanks to their app they are able to save 15 tons of food that would otherwise be wasted every month.
The app is a great example of so-called "collaborative economy", a new and fast-growing phenomenon that has a great potential to increase efficiency, transparency, choice and convenience for consumers as well as reducing costs.
Useful links
Explore our Toolkit For Entrepreneurs for more business tips: