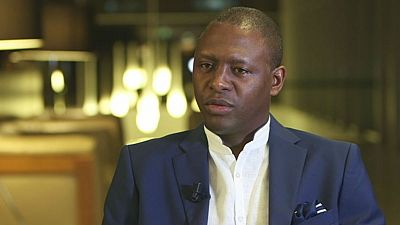 There are many challenges for Angola. The country is hoping private investment will help development but one of the biggest which lies ahead is helping Angolans achieve professional qualifications.
Norberto Garcia from the Technical Unit for Private Investment in the country outlined to euronews what he believes will be the way forward for the country.
"Education in Angola is a state priority. In 1975 and independence the country had an illiteracy rate of 85%. Today, it has decreased considerably, hovering around a 25 or 26 percent rate. Even so, the big challenge today is preparing professionally qualified people for the challenges of growth and development. Only by addressing this issue will we be able to effectively further develop the country.
'To do this, the new investment contracts, whether domestic or foreign will include provisions for training, technology transfer and providing "know how" so capital will enable harmonious growth of the economy. In turn, that growth will help the country overcome the regional asymmetries and potentially manage to bring more holistic satisfaction to the country's economic growth."
Investment
"What we want is to ensure that the investments coming to Angola are investments that will increasingly serve the Angolan people, so they can actively participate in the economy. The private investment law in Angola provides certain guarantees and essential elements, particularly in relation to private property, and making sure the investors feel secure here in the country in terms of ownership, in terms of the capital that they bring in, in terms of facilitating the entire investment process and in terms of ensuring the investment will help the economy grow and develop.
Today our mission is, our task is to stop thinking about oil and think in terms of private investment. Private investment is the new oil. It is private investment that will enable priority programs to be executed in the areas of infrastructure, agriculture, tourism, transport and agro-industry.
These initiatives will allow Angola to reduce our dependence on imports and start exporting increasingly throughout the region and beyond. SADC (The Southern African Development Community) has almost 200 million inhabitants."
Partnerships
"Angola increasingly feels it can find common ground and work with all the "Angolacentric" countries with which we have historical ties, cooperation agreements, and diplomatic relations. We have a great relationship with China, with Brazil, and with Europe … But we understand that the most
important facet is for the world to be with us and for us to be with the world.
'Angola is an increasingly open country one that really wants to associate itself with the best, as long as these partner countries respect Angolan law and institutions. These relationships will be based on empathy, not apathy so we can grow together . We want to associate ourselves with the best."