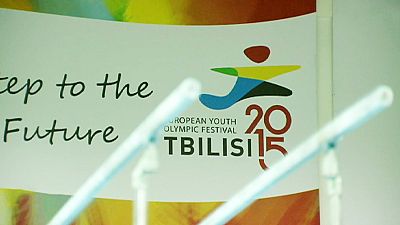 The Olympic flame in the centre of the Georgian capital Tbilisi welcomes young athletes from all over Europe to compete in the European Youth Olympic Festival.
#TbilisiEYOF#EYOF#TbilisiEYOF2015#tbilisi2015#torchrelay#olympicflamepic.twitter.com/bl3cDpe5Nn

— Tbilisi 2015 EYOF (@TbilisiEYOF) June 10, 2015
preparing for #Tbilisi 2015 #european#youth#olympic#festivalhttp://t.co/nQg3S6cMYOpic.twitter.com/Sl19zwmySC

— OlymPicture (@Olym_Picture) June 15, 2015
Aleksi Akhvlediani is the Chairman of European Youth Olympic Festival in Tbilisi and he explained the format of the event: "It's the XIII European Youth Olympic Festival and governed under the Olympic Charter.The difference with the Olympic Games proper is that the athletes compete in nine sports. The participants eligible to compete have to have been born in 1998, 1999 or 2000."
Close to 4,000 athletes from 50 countries will compete in nine disciplines, volleyball, tennis, swimming, cycling, handball, judo, basketball, athletics and gymnastics.
The event has the wholehearted backing of the Georgian government.
Mayor of Athletes' Village will be famous Georgian footballer #LevanKobiashvili#EYOF#Tbilisi2015pic.twitter.com/L3m8UCN05c

— Irakli Garibashvili (@PrimeMinisterGE) July 20, 2015
Irakli Garibashvili is the Prime Minister of Georgia: "For us it's a great opportunity to show to the world and the athletes, that we are a great nation, one of the oldest nations.Tbilisi is a great city, a European city. And we are European people and we share the same values."
Georgia has upgraded its sporting facilities in order to host the festival.
The New Tbilisi is a recently constructed sports complex the venue features an Olympic pool, a gymnastics arena, a track and field venue and two volley ball courts.
New tennis courts open in Tbilisi @TbilisiCity@DNarmaniapic.twitter.com/unfp9CWQVV

— Tbilisi City Hall (@TbilisiCity) July 23, 2015
As well as hosting prestigious events New Tbilisi will play an important role in developing future Georgian athletes.
Former World Champion Rusudan Sikharulidze coaches the Georgian gymnastics team, for her the new facilities are something to celebrate:
"The facilities we had to train in were not good, we didn't have foam pits necessary for gymnasts. So we had to travel to other countries to train. Now we have this, its an opportunity, a gift."
As well as facilities to train and compete athletes need a place to relax and sleep. Georgia has constructed an Olympic village made up of nine apartment blocks, a hotel and restaurants, its a place to escape the stress of competition.
Our correspondent in Tbilisi is Maria Korenyuk:"The village was built from scratch in two years. After the closing ceremony a number of the apartments will be sold, but others will house internally displaced persons from Abkhazia and South Ossetia."
Mayor of the village is Levan Kobiashvili a former Georgian footballer who found fame with FC Schalke in the Bundesliga:
Mayor of Athletes' Village will be famous Georgian footballer #LevanKobiashvili#EYOF#Tbilisi2015pic.twitter.com/L3m8UCN05c

— Irakli Garibashvili (@PrimeMinisterGE) July 20, 2015
"Eight fully furnished apartment blocks will be designated for internally displaced persons. And to my mind that's a great idea that we Georgians are proud of."
Before that the village will be home to Olympic hopefuls from across Europe.
Dani Georgiou is 16 from Cyprus she carrries big dreams: "Success for me is to go to the finals. And do a personal best. My dreams are to participate, of course, in the Olympic Games, European Games and go as far as I can go."
The European Olympic Youth Festival opens on July, 26 with the closing ceremony on August.
Follow the action on euronews.