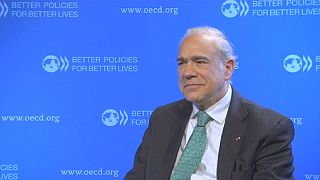 A more competitive Europe is the European dream in these days of austerity. But how to achieve it is always the question.
In this week's Real Economy, we examine Europe's competitiveness in a globalised world and bring you up to speed on how global trade actually works.
To find out how competitive European companies can support Europe's sluggish growth, we caught up with the OECD's secretary general, Angel Gurria.
We also put Europe's most successful airline manufacture Airbus in the spotlight and focused on its challenges.
Finally we went to the French capital of Paris to explore why many multi-nationals are so keen on setting up camp in Europe.
Thanks for watching Real Economy. We will be back in the New Year with more. In the meantime, happy holidays!