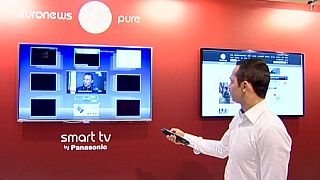 Television is becoming increasingly global. The programs we see on our screens, whether documentaries or soap operas, quiz programmes or films, are produced in various countries around the world. However there is one place where all of those working in this sector meet up. MipTv, in Cannes, France.
It is the largest event of its kind in the world, and over 11,000 people from over 100 countries gather in Cannes to buy and sell TV shows. It is a huge market for the television. But how well does this market work? And what products can be found here?
Anne de Kerckhove, Director of Entertainment Division at Reed MIDEM told euronews about the event:
"So, here it's all about TV. It's where your future police series, detective stories, love romances, telenovelas, reality TV shows, all these shows get discovered here, sold to over 100 countries. It's where really all the makers of the best TV come together and trade each other series and launch new exciting products for the TV".
But the economic crisis has hit companies hard, and all now have to deal with certain financial constraints. This makes co-production a very popular money saving option, and many come to Cannes to find a partner who can help finance their projects.
Ove Rishoj Jensen of the European Documentary Network spoke of the benefits of co-production:
"Co-production and working together across borders can really help with bringing the right amount of financing and really fulfilling the financial needs for making good documentaries, and also for making good documentaries on a scale that can reach an international audience, so co-production is becoming increasingly important and something which is more and more happening".
Technology is quickly transforming and smart TV is the new frontier. Along with simply watching programmes, TV sets will be able to connect to the web thereby offering new applications. So does the internet mean that TV's days are numbered? Or could it turn out to be its best ally?
Tom Morrod a Senior Analyst at IHS Screen Digest thinks the best way to survive the internet is to evolve with it:
"The Internet is a threat to certain elements of TV and in particular the broadcasting of TV, so the technology around the traditional television delivery.
"But I don't think that constitutes a threat to the industry of TV, in fact, it's a complication to the industry of TV which creates a huge number of more opportunities than it does problems and threats in long term."
Bismarck Lepe, Co-founder of internet video publishing website Ooyala told us about who was pushing this technology forward.
"We look at four pillars in terms of monetisation of all content. The first one is advertising, of course, pay-per-view, subscriptions and then the fourth one which is usually misunderstood and not really accounted for online video, which is licensing, in being able to create your content, distribute it to all of the channels and obviously monetising that way."
Technology is now transforming the way we watch television at break neck speeds, in order to not get left behind, production companies need to be innovative, as Anne de Kerckhove explains:
"We know that TV series are completely changing. They're not about passive customers just watching on their couch, it's about us the customer interacting with the series, it's about Facebook, it's about Twitter, it's about the second screen, it's about the tablet. We consumers are now in fact at the centre of this market, with innovation."
Innovation therefore does not mean that everything changes, but instead gives the viewer the opportunity to watch more of the things they want to watch.