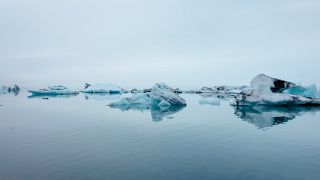 In the heart of London, centuries-old Greenland icebergs keep melting. The blocks, which weigh between 1.5 and 6 tonnes each, are part of an installation to bring the effects of climate change closer to home, putting people in direct contact with its effects.
The ice blocks serve as chilling reminders that we have only 12 years to limit the worst effects of climate change. They also represent another 10,000 blocks of ice such as the ones on display, which are falling from the same ice sheet in Greenland every single second.
The artist behind the unusual exhibition is the Icelandic-Danish Olafur Eliasson who teamed up with geologist Minik Rosing to leave behind traditional campaigning and to look at more direct and experiential ways of encouraging people to take action.
"People need to face the tangible consequences of their actions, need to be able to see and feel what we are losing", states the artist on his website.
The artwork was unveiled outside Tate Modern on Tuesday (December 11) to coincide with the COP24 climate change conference taking place in Katowice, Poland.
Click on the video above to learn more about the installation.