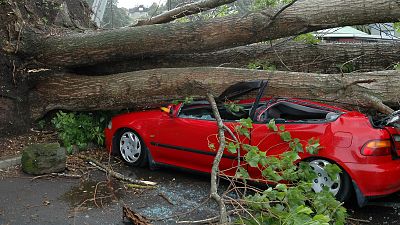 Seven dead and sixty injured, losses estimated at 643 million euros*: between January 2-3, the extratropical cyclone Eleanor (also known as Burglind) caused significant damage across Austria, Belgium, France, Germany, Ireland, Luxembourg, the Netherlands, Switzerland, and the United Kingdom.
The insurance sector is used to the challenges posed by extreme climate events such as violent winds, floods or coastal submersion, but anticipating what will be the risk of occurrence of a specific year is key to the success of any insurer. By altering these risks climate change has the potential to significantly affect the industry.
No fewer than eight storms have already hit Europe since the beginning of this winter
Due to climate change, Europe is gearing up for a more erratic occurrence of extreme events in the coming years, which is a primary concern for the insurance industry.
According to a report issued in 2016 by the French Insurance Federation (FFA), the cost associated with hazards such as droughts, floods, coastal submersion or storms could double over the next 25 years. In Metropolitan France alone, the total amount of claims related to damages in that period would amount to some 92 billion euros, almost twice as much as those recorded over the last 25 years...
This trend can be seen throughout Europe and is largely explained by an increase in exposure, partly driven by growing wealth and density of population impacting the overall value of insured housing and infrastructure. But climate change impact is also an important factor to consider, as indicated in the FFA report which estimates that claims for climate-induced damages will account for nearly 30% of the bill in the coming years.
Insurance and reinsurance sector developing new climate tools… needing new data resources
Copernicus demonstrator for the insurance sector: example of losses estimation graph
Quoted last September by the French daily newspaper Le Monde, Denis Kessler, the CEO of French reinsurer Scor, warned about the impact extreme climate events could have on the sector, indicating that "some actors are at high risk, which could lead them to revise their business model or, for some of them, to call on the markets because they will need more support".
The business model of insurance companies is built around their ability to estimate the probability of occurrence of specific incidents, such as extreme climate events, so that they can price their premiums accordingly. That is why many major companies are recruiting scientists and climatologists to elaborate new specific loss estimation models, but, as Carlo Buontempo, Copernicus Climate Change Service SIS** Manager says: "it is essential to provide the sector with independent and fully traceable data inputs to their modelling chain to enable them to deliver benchmark damage estimations associated with specific risks."
Copernicus to enhance the understanding of windstorm risk with new dedicated product
The aim of the emerging operational Copernicus service for the insurance sector is therefore to provide new benchmark data resources that can be used to enhance understanding of the nature and impact of windstorms over the European continent. The main target groups are insurers, reinsurers and insurance industry service providers who are interesting in developing, running and analysing risk models.
The objective is to bridge the gap between institutions that provide climate data and the modellers and decision makers within the insurance sector. It provides a high-quality dataset of windstorm information that can be used by the insurance sector at a range of scales within Europe to better understand the levels of risk from windstorms. The dataset is now available from /wisc.climate.copernicus.eu/. The next stage is to make the service fully operational with regular updates to allow historical records to be maintained as new events occur.
*according to PERILS, the Zurich-based organisation that provides industry-wide catastrophe insurance data.
** Sectoral Information Service