Denmark's secret to happiness.
According to the Internet, "còsagach" is the new hygge. And if that sounds like another language, that's because it is.
Much like "hygge" the red hot Danish buzzword of last year, "còsagach" is an old Gaelic word for being snug and cozy — it's also the key concept VisitScotland is leveraging to entice tourists in colder months.
"Fluffy rugs, fire pits, outdoor hot tubs and wood burning stoves all ooze còsagach," says the site, adding that "eating and drinking plays an important role" in the ritual, as does a (literally) warm welcome in brutal winter.
Hygge was huge, so it's only natural the Scots would want in on that action. Time magazine even called hygge the "Nordic trend that could help you survive 2016." And look! Here we are.
Wait, what is còsagach and hygge again?
Pronounced "kosgough" and "hueguh" respectively, they both get at the same vibe, which is a sense of coziness and hunkering down to focus on the simpler things in life — mostly stuff afforded by life in a cold climate. Think Sundays off wearing thick socks and sweaters, chowing on hearty meals of meat and potatoes by the fire with your neighbors.

So, do trends like còsagach and hygge really make life better? Experts say 'yes', because they're all about relaxing and reconnecting — and that's important now more than ever. Here's what they give us:
1. A feeling of comfort
Beth McGroarty, director of research at the Global Wellness Institute, says this "endless appetite" for indigenous philosophies that focus on mental wellness or comfort, is because of a need for the "coziness" of peace, quiet and safety. "With so much political unrest, so much global fear and change, and a world where 'fake news' was the word of the year last year, it's no wonder "hygge" was the runner-up," she says.
2. A sense of connection
"These are very uncertain times. People feel crazier, sadder, angrier and need mental and stress relief," says McGroarty. "We had the Swedish concept of 'lagom,' or a life aimed at mindful moderation, and a fascination with 'ikigali' from Japan, a philosophy that places meaning and purpose as paramount, translating roughly into a reason for living and the art of connection. You can see what these concepts, hygge and còsgach share: a need to be safe, nested, and connecting with others — not on Instagram."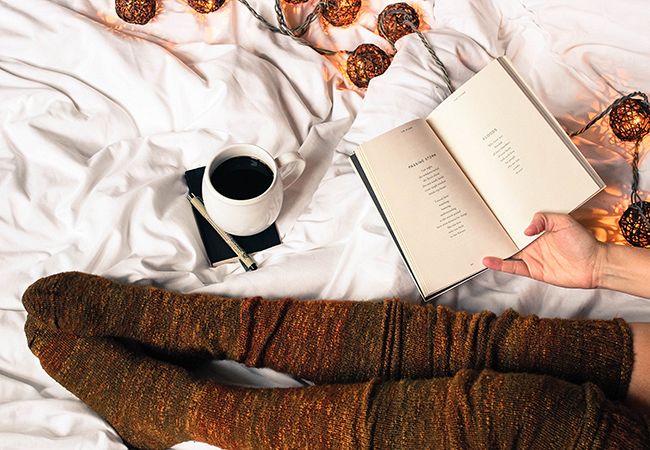 © Thought Catalog/Unsplash
3. A supportive community
A recent study from the University of Oxford says that more often people eat with others, the more likely they are to feel happy and satisfied with their lives. "Communal eating increases social bonding and feelings of wellbeing, and enhances one's sense of contentedness and embedding within the community," it reads. And that's totally còsagach.
So now that còsagach is here to comfort us, what's next? McGroarty thinks it's interesting that last year Scotland's tourism board developed a new tourism campaign around the wellbeing that comes with silence — the precious luxury of the future. "Given our sudden 24/7 bombardment by work, media and social media, we're seeing the rise of a much more profound kind of 'digital detox,' true silence. This ranges from new silent spas to the rise of more wellness monasteries, or retreats opening in, and revolving around the silent values of, ancient sacred spaces," she says.
Maybe the buzzword for 2019 will be "shhhhh."
Writer: Vivian Manning-Schaffel
This content originally appeared on NBC News.