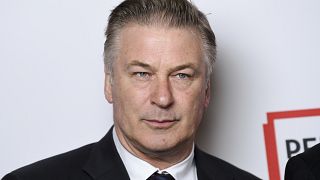 -
Copyright

Evan Agostini/2019 Invision
Despite impending legal battles for its star Alec Baldwin, the Hollywood film Rust is moving ahead with production, according to US media reports.
Shooting on the Western was suspended in October 2021, after cinematographer Halyna Hutchins was killed while rehearsing a scene. Baldwin was pointing a prop pistol at Hutchins when the gun went off, killing her and wounding director Joel Souza.
The Western will reportedly resume filming this Spring, with Baldwin returning as lead and Souza returning as director. Cinematographer Bianca Cline (Marcel the Shell with Shoes On, American Horror Story) will take over from Hutchins and Hutchins' widower Matthew Hutchins will serve as executive producer on the film, according to The Hollywood Reporter.
The scene in Rust that was being rehearsed when Hutchins was killed will also be rewritten, a lawyer for the film told the news site.
Production is moving forward in spite of legal issues plaguing Baldwin and other members of the production staff.
Baldwin, who is also a co-producer on Rust, faces a lawsuit on behalf of Hutchins' parents and younger sister in Ukraine, who are seeking damages over her killing. A similar suit filed by her father and brother was settled last fall and Hutchins' widower reached an undisclosed settlement with Baldwin and other producers of Rust late last year.
Last month, Baldwin and Hannah Gutierrez-Reed, the weapons supervisor on the set of the film, were also charged with felony involuntary manslaughter in Hutchins' death.
In court documents, New Mexico prosecutors claim that the film's production was accompanied by reckless safety failures from the start, and that Baldwin's "deviation from known standards, practices and protocol directly caused" Hutchins' death.
They cited Baldwin's failure as an actor to appear for mandatory firearms training prior to filming and his decision as a producer to work with Gutierrez-Reed, who was an uncertified and inexperienced armorer.
Baldwin's attorney Luke Nikas said when the charges were announced that they were a "terrible miscarriage of justice" and that Baldwin had "no reason to believe there was a live bullet in the gun."
Baldwin has sought to clear his name by suing people involved in handling and supplying the loaded gun. Baldwin said he was told the gun was safe.
In his lawsuit, Baldwin said that while working on camera angles with Hutchins, he pointed the gun in her direction and pulled back and released the hammer of the weapon, which discharged.
Watch the video in the player above for more on this story.