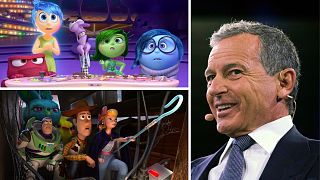 The Walt Disney Co. will axe 7,000 jobs, representing roughly 3.6% of the global workforce.
The ambitious multi-billion dollar cost saving restructuring was announced by chief executive Bob Iger, in his bid to improve the company's finances.
It was Iger's first quarterly results announcement since he came out of retirement and retook control of the entertainment giant in late November. A previous $1.5bn quarterly group loss led to the departure of Bob Chapek and the reappointment of Iger, who had stepped down from the job in 2020.
The company revealed plans to save $5.5bn in costs under a "significant transformation" to improve profitability at the company's streaming business, which lost more than $1bn in the October-December quarter as Disney+ subscriptions fell.
As of 1 October 2022, Disney employed 220,000 people, of which about 166,000 worked in the US and 54,000 internationally.
"This reorganisation will result in a more cost-effective, coordinated approach to our operations," said Iger. "We are committed to running efficiently, especially in a challenging environment."
The executive also announced changes to how executives will operate Disney's various divisions. Creative executives will now be responsible for determining what movies or TV series to produce, as well as the marketing and distribution.
"Our new structure is aimed at returning greater authority to our creative leaders and making them accountable for how their content performs financially," Iger said during a call with Wall Street analysts.
Streaming woes and upcoming sequels
While group net profits came in at $1.8bn, subscribers of the Disney+ streaming service dropped by 2.4 million. 
However, revenues were still up and better than Wall Street forecasts as theme parks brought in operating profit of $3.1bn during the quarter. Revenue grew 8% to $23.51 billion from $21.82 billion a year earlier. Analysts were expecting revenue of $23.44 billion.
The company's direct-to-consumer business, which includes its streaming services, posted a $1.1 billion operating loss amid higher programming and production costs at Disney+ and Hulu. Disney+ ended the quarter with 161.8 million subscribers, down 1% from 164.2 million since 1 October. Hulu and ESPN+ each posted a 2% increase in paid subscribers during the quarter.
Iger said streaming remained Disney's top priority. 
He said the company would "focus even more on our core brands and franchises" and "aggressively curate our general entertainment content".
The company, which owns Star Wars, Marvel and Pixar, will focus more on its core brands and franchises. Iger revealed plans for sequels of some of the company's biggest animated franchises.
"Today I'm so pleased to announce that we have sequels in the works from our animation studios to some of our most popular franchises, Toy Story, Frozen and Zootopia. We'll have more to share about these productions soon, but this is a great example of how we're leaning into our unrivaled brands and franchises," Iger said.
While this news isn't surprising given how profitable these franchises are – Toy Story 4, Frozen 2 and Zootopia - were all nominated for Academy Awards, with the latest theatrical installment of each series making over $1 billion. There are also plans for an Inside Out sequel. 
Fans seem dubious over these planned sequels.
Management said that Disney+ plus will achieve profitability by the end of its next fiscal year in September 2024.