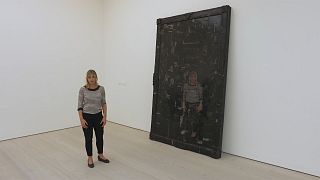 The prestigious Saatchi gallery in London takes us through the looking glass in its new exhibition of 170 contemporary artworks depicting a gloomy reflection of the world we live in.
"Black Mirror, art as a social satire", seemed the perfect title for us to pull together a collective of artists working over the last 20 years with a reflection, like a mirror, of society. Many of the works are having a playful look at and interpretation of the anxieties, reflection through history, political situations," says the Gallery's Senior Director, Philippa Adams.
One monumental drawing by Dominic McGill is an intricate representation of the many ideologies whirling around since 9/11. The references to recent conflicts and political leaders of the past are linked with philosophical quotes and caricatures to criticize the excesses of neo-liberalism.
"When we first conceived this project one of the intentions was that it was like a historical panorama, like the Battle of Gettysburg or the Bible story. So we took sort of cartoon elements, textual elements, and we brought them all together to try to create like a contemporary history painting," he says.
Closer to the present, an installation of 35 digital prints by James Howard was made ten years ago, and is a long and deep plunge into the dark side of the web.
"If we're going to try to find our place in the universe, then the internet can be seen as a very direct way of going there because we have all of human behaviour at our fingertips. Years ago, the internet was very different. There weren't such good spam filters and I was able to get access to some crazy places on the internet and then harvest all of that material. There were crazy beautiful peaks and terrifying drops. Now it's kind of a very linear, boring place. I just wanted to get things that were at the extremes because they can tell us things about ourselves," he says.
The exhibition also invites people to take a step forward and question the visitor's own behaviours and preconceived ideas. In one exhibit, that's quite a literal command, as "Before you judge me, walk a mile in my shoes" sees visitors trying on shoes and taking pictures while reading the labels inside the footwear.
​The extra-large second-hand pairs of shoes are both clownish and bear the scars of poverty, each possessing a hidden personal story.
"Black Mirror, art as social satire", is on at the Saatchi gallery in London, free of charge, until 13th January.
​