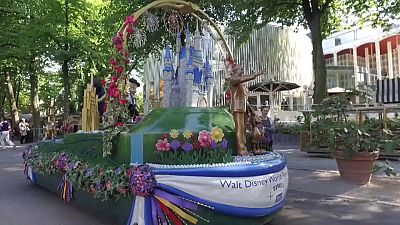 Tivoli Gardens in Copenhagen turns 175 in August.
Celebrations started in May with a special Disney float taking part.
The second oldest operating amusement park in the world opened in 1843.
Walt Disney visited the park in the fifties several times where he was fascinated by the mood and atmosphere.
The Walt Disney Company Show Director, Forrest Bahruth says, "He wanted a place for the children to be able to go, and it was a very small entertainment place, but it wasn´t real quality. He said "I want to make a wonderful place". So he began going around the world visiting, and when he saw Tivoli he said "this is family, this is wonderful".
Former Head of the Tivoli Guard, Sven Hansen says, "I met Walt Disney right here. I think he took some of the inspiration here, from the beauty, the comfort, and the joy that people feel when they come to visit Tivoli, and he was inspired, he said "i want something like this".
It's the first time another theme park is cooperating with another amusement park, creating a 150 metre long parade which takes around 30 minutes to pass.
Last year, Tivoli attracted 4.6 million visitors, which makes it the fifth most-visited theme park in Europe.
Celebrations will be at its peak on the 15th August with a huge fire work display.