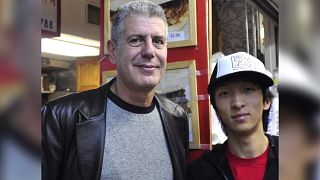 By Erica Chayes Wida with TODAY Food
Throughout his career, Anthony Bourdain celebrated unique cuisines, hard-to-find restaurants and plenty of food cultures in many cities throughout the world.
And in the wake of his death at 61, countless fans are honoring Bourdain in return.
Since Friday, when news of Bourdain's reported suicide first broke, a wave of support, sadness and shock has crashed through the culinary world and beyond. Bourdain was not only a renowned chef, author and television host, but also a father, husband, partner and role model to many.
Bourdain's death came as a shock to many, including Bourdain's mother, Gladys.
As he did in life, however, Bourdain is making an impact after his passing: this time by bringing more awareness to mental illness and suicide. So far, a few restaurants where Bourdain dined and filmed have made it official that they will be contributing to suicide prevention causes.
Jason Wang, CEO ofNew York City's Xi'an Foods, announced that his restaurant would donate 100 percent of Friday's net sales to the National Suicide Prevention Lifeline. Bourdain visited Xi'an Foods in 2007, when it was just a basement in Queens, New York, for an episode of "No Reservations." According to Wang, the restaurant was never been the same — in the best way.
Wang expressed his "extreme sadness" on Facebook and told the world the same message he told Bourdain when he later saw him in 2015:
"I approached Tony and told him, while he may have no idea what he has done for our family and business by simply saying he enjoyed the food, I wanted him to know it helped bring our family out from living in one room in Flushing to living the American dream."
Xi'an Foods is not the only restaurant that has donated to the Suicide Lifeline.
Kru Contemporary Japanese Cuisine in Sacramento, California, announced on Facebook that Bourdain inspired the restaurant's weekend concept, "Ngo Reservations," (named after its owner Bill Ngo), which occurs ever Friday and Saturday night from 10:30 p.m. to 2 a.m.
To contribute, Kru bartenders will donate all of their tips to the National Suicide Prevention Lifeline during "Ngo Reservations" nights for the rest of June. The restaurant will then match all of those tips for the final donation.
"While we are all still reeling from his loss, we want to do our part to raise awareness about mental health and suicide prevention," the restaurant wrote. "Cheers to you, chef."
Kru announced Sunday that its bartenders raised more than $1,100 in tips over the week weekend, all of which will be donated.
"In 2017, the National Suicide Prevention Lifeline answered over 2 million calls from people needing support across the United States, a record-setting number," Lifeline said in a statement. "With more people reaching out to the Lifeline, donations help us strengthen our growing infrastructure, support local crisis centers, and provide support for the counselors answering Lifeline calls."
Even restaurant's not featured on one of the chef's shows are raising awareness.
Stargazy, a Philadelphia eatery known for its British pies and mash, announced Saturday it would also donate a portion of its sales for the month of June to suicide prevention causes to honor Bourdain. But that's not the only way Stargazy's chef Sam Jacobson will pay homage to the foodie extraordinaire.
He invited Instagram followers to join the restaurant on Saturday and Sunday for a "really badass pie special," accompanied by some Ramones music, Bourdain cookbooks and good ol' fashioned reminiscing.
"We have a wild Scottish hare that I soaked overnight in a nice bottle of Barolo from my personal drinking stash. We have venison and veal osso buco, wild boar, and dried porcini mushrooms. All of that will be braised shortly and available tonight as a larger format pie with taleggio-stuffed polenta cakes," Jacobson wrote.
He continued, "This man inspired me in so many ways as a young man just starting out in the food industry."
If you or someone you know is at risk of suicide please call the U.S. National Suicide Prevention Lifeline at 800-273-8255, text TALK to 741741 or go to SpeakingOfSuicide.com/resources for additional information.
Erica Chayes Wida is a New York City-area based journalist and food writer obsessed with culture, cooking, poetry and travel. Follow her work on Instagram and Contently.