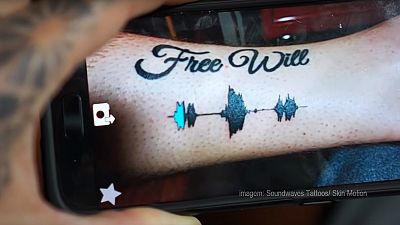 The art of tattooing is leaving a brand new mark in this fast-moving age of technology.
Tattoos are now being linked up to people's smartphones so audio can be played with an app.
Soundwave is able to read the design and then play anything from a favourite song to the voice of a loved one.
Claudiu Marin, a tattoo artist at Tattoo Octo in Faro in Portugal, said: "The original idea came from the U.S. Then it was developed in Eastern Europe, more precisely in Romania."
"You just have to get up close to the smartphone and it reads what's on the skin."
One man getting a tattoo said he wanted his Soundwave designs to remind him of his late uncle, so he could play his favourite songs whenever he wants.