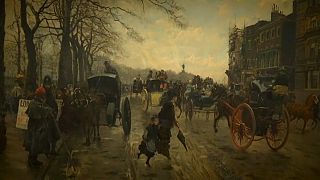 A new exhibition is set to open (2nd November) at the Tate Britain Gallery exploring the works of French artists in London.
The 'Impressionists in London, French artists in exile' exhibit shows off the works of French artists that moved to Britain during the Franco- Prussian War in the 1870s.
The exhibition is the first to highlight French artists engagement with British culture and tradition.
Estelle Lovatt, Art Critic said: "In Paris, they concentrate on nightclubs, cafes and the clubs but when they came here, they found actually that they just wanted to draw the beautiful architecture, like around Westminster and St Paul's and Big Ben, but also the mist that surrounded that beauty, because they were interested in colour and how colour changed what they were looking at."
It includes works by over 100 artists including Claude Monet, James Tissot and Camille Pissarro.