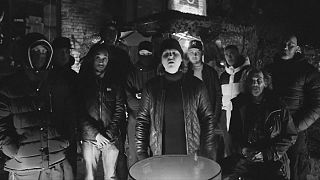 Danish pop band Lukas Graham's hit song '7 Years' has been nominated for three Grammy Awards, including 'Song Of The Year', 'Record Of The Year', and 'Best Pop Duo/ Group Performance'.
The song is from the soul-pop band's self-titled second studio album and was released as a digital download last September.
The band's 28-year-old front man Lukas Forchhammer is brimming with pride to have been nominated for the awards.
'It feels a little awkward, a little weird, because no matter how much you work to something or strive towards something especially the way we work, we don't expect any of it. We hope for everything and we try to work harder than the people we meet on the road but we don't expect to be honoured in this way.
'And the Grammys mean a lot especially because it is a peer voting system, other musicians and performers have seemed our song Grammy worthy," he enthused.
The 28-year-old who is the the main writer of the band, describes '7 Years' as a song about his life so far and what he hopes to achieve in the future.
The reason the lyrics go as far as the age of 60 is because his father died at 61.
"My father died in the age of 61. I was 23 years old, touring Germany at the time. Losing him at such a young age had a big impact on me. So I didn't really have vision to put the song beyond 60 years. Now that I have become a father myself though, it is easy for me to vision past 60," explained the singer.
'7 Years' went quadruple platinum reaching No.2 in the Billboard Hot 100 chart and is the highest selling single from a debut artist this year.
"I would say fame to a certain extent has made me and my boys a little more humble because we know how hard we worked to get here. But the fame was never the goal. Performing our music and being able to tell our stories to the world was a goal itself," he added.
The Grammy Awards which will be held in Los Angeles on February 12, are chosen by members of the music industry and in the past have often been dominated by rock and country music.