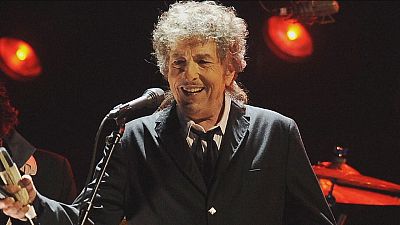 Bob Dylan has been awarded the Nobel Prize in Literature for 2016 "for having created new poetic expressions within the great American song tradition".
The announcement had the effect of a bombshell. Bob Dylan is the first musician to win the top literary honor, igniting both applause and a fierce debate.
To those who question the choice, Sara Danius of the Swedish Academy had a ready-made answer in announcing the award: "If you look far back, 2,500 years or so, you discover Homer and Sappho. They wrote poetic texts that were meant to be listened to and performed, often together with instruments, and it's the same way for Bob Dylan."
Many have also praised the bold choice as being richly deserved and overdue.
According to Steven Rings, music professor at the University of Chicago, "In our culture, and certainly the kind of elite culture that surrounds something like the Nobel Prize, we tend to separate out literature from performance. Literature is something that you read on the page. But there is, of course, an extremely long tradition of performed literature going all the way back to Homer."
Dylan, who didn't react immediately to the award, went on to play a scheduled concert in Las Vegas following the announcement. Fans attending the show welcomed the news.
"He's a poet and that's why he got it in literature. I was with some people I work with, they said, 'Why is Bob Dylan getting that?' It's because he's a poet and he's written hundreds and hundreds of songs," said one fan.
"I think his music has impacted generations and has lasted for a long while. I think his lyrics are amazing," said a young woman.
"He relates to people and their emotions. He's a storyteller, basically, a balladeer. So everything he sings has underlying meanings," said an older fan.
One of the best-selling artists of all time, Bob Dylan has received numerous awards including eleven Grammys, an Oscar and a Pulitzer for his profound impact on popular music and American culture. He has also published several books of drawings and paintings and his work has been exhibited in major art galleries.