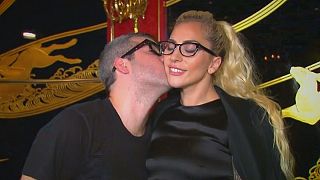 Victoria Beckham loosened up for her Spring/Summer collection presented at New York Fashion Week.
Offering a feminine, flowery take on the ubiquitous oversized, unstructured look, Beckham showed a velvety collection of asymmetrically skirts, shift dresses and loose, low-slung trousers, that gave the clothes a slouchy yet sexy feel. Each look was paired with flat, knee-high boots, underlining the cool, unfussy tone.
One of America's most talented young fashion designers, Brandon Maxwell, presented his new collection under the benevolent gaze of his muse and friend Lady Gaga.
https://youtu.be/d6f-HCOshmg
In addition to styling Lady Gaga, Maxwell has also dressed celebrities like first lady Michelle Obama and actresses Uma Thurman and Gwyneth Paltrow.
He showed a strong collection of clothing made to walk the red carpet, including jumpsuits and bustier dresses in architectural shapes with dramatic slits and folded details.
After the show, Lady Gaga agreed to talk about her latest projects but the focus was on her friend's work: "I do have new music coming out – my single 'Prefect Illusion' is out now – and I am actually leaving after this to go to the studio to finish my album. But I had to be here for Brandon Maxwell, my best friend, because I adore him and I adore his new collection. I am going to go steal a few pieces now, goodbye," she said with a smile as she wandered off.