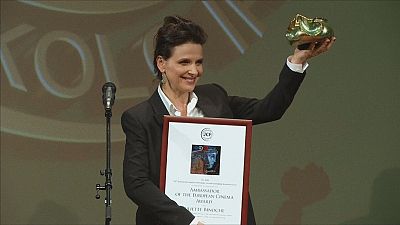 Speaking at the Miskolc International Film Festival in Hungary, where she was guest of honour, Oscar-winning actress Juliette Binoche has called on more compassion towards refugees amid Europe's migration crisis.
Picking up the the festival's special award, she talked about the role of cinema: "For me, a film is a possibility of transforming. It is a possibility of becoming more human, understanding the others better, having more compassion, becoming more open somehow."
Binoche rose to global fame in films like 'Chocolat' and 'The English Patient' (Oscar for Best Supporting Actress in 1997). She paid homage to the late Polish director Krzysztof Kieślowski, with whom she shot 'Three Colours: Blue' in 1993 – a film which earned her several Best Actress gongs including a Golden Lion and a Golden Globe.
"Krzysztof was… for me, it was very easy to work with him. He was serious in what he was doing, but there was a lightness in him. There was a sort of humour about things, like… existentialist. I loved that, because it really showed his humanity," she said.
Among the films presented at the Miskolc festival was 'Motel Mist', the directorial debut of Thai author Prabda Yoon – an erotic thriller set in a love motel on the outskirts of Bangkok.
Film critic and jury president Klaus Eder was delighted with the variety of films at this year's edition: "It's a programme of discoveries. If you travel to festivals, you see quite a lot of films, and in a lot of festivals you see the same films. Here you can see films which didn't enter the festival circuit, very big surprises. So it's a programme which simply makes you curious."
Also screened at the CineFest, Hungarian movie 'Memo' by István Tasnádi. Set in the 1980's, it tackles a brand new subject matter in film: "We have seen a lot of movies about amnesia, it's become a genre. But the opposite, hypermnesia, is totally new in film. That's why I was very excited about it, it's so rare to find fresh material," explained the director. "Hypermnesia is an extremely rare condition, so I read about it in medical books, there was a case study written by a Soviet professor, who met a patient suffering from hypermnesia, and that inspired me to make the movie. It's a fiction, but the medical case is real."
The film tells the story of a psychiatrist researching a strange mental state called hypermnesia, characterised by a unusual enhancement of memory, typically under abnormal conditions such as trauma or narcosis. He decides to take a patient suffering from hypermnesia out of hospital at his own risk and study him.
The International Film Festival in Miskolc runs until September 19th.