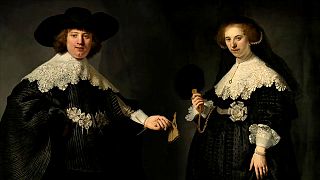 Running at London's Victoria and Albert Museum, 'You Say You Want a Revolution? Records and Rebels 1966-1970' explores the birth of the late-Sixties counterculture, which helped define an entire era ranging from music, to civil rights and consumerism.
Rembrandt's rare and famous full-length marriage portraits of Marten and Oopjen are on show at Amsterdam's Rijksmuseum until early October. They will then undergo restoration, before being rotated between Amsterdam and Paris.
The rich, complex work of Pakistani-American artist Shahzia Sikander is on show for the first time in Italy. From drawings to paintings, animation and installations, Rome's National Museum of 21st Century Art is showing more than 30 of Sikander's works until late October.
Marking 75 years since the Babi Yar massacres, one of the first acts of mass killings in World War II when more than 34,000 Jews were murdered by the Nazis, Kiev's Pinchuk Art Centre presents 'Loss', featuring works by artists like Christian Boltanski, Berlinde De Bruyckere and Jenny Holzer – the show runs until next January.