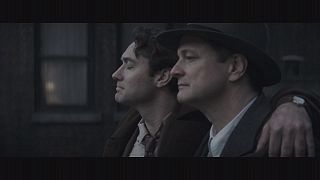 The film based on the novel 'Max Perkins:Editor of Genius' explores the role of the renowned editor who worked with many great American novelists, including F. Scott Fitzgerald, Ernest Hemmingway, and Thomas Wolfe.
The movie starring Colin Firth, Jude Law, Nicole Kidman and Laura Linney premiered in New York City:"The influence of Perkins is fascinating, and obviously that's in the book and something I didn't realize: what a great editor, and the strength of a great editor and the need for it. So I think the relationship between Thomas and Max is fascinating," said Kidman.
Lights, camera, action! The cast and director of #GeniusFilm at the NYC red carpet premiere. pic.twitter.com/FmKZdjUTXH

— Roadside Attractions (@roadsidetweets) June 5, 2016
'Genius' plots the relationship between the younger writer Thomas Wolfe and Maxwell Perkins.
Jude Law plays Wolfe:" At the time Wolfe was outselling Hemmingway and Fitzgerald, and indeed the two of them are in the film. He was the rock star of his generation then, who has since been overlooked, if you like. So everything started from scratch. Fortunately for me, the tomes of work that he left us was all biographical. So there was a huge amount of work I can do just from reading his work."
#GeniusFilm opens at #TheLandmark this Thursday night 6/9 at 7:45pm & 10:10pm! Tickets: https://t.co/TR2iV5rxihpic.twitter.com/UUBqRkOjj8

— Landmark Theatres LA (@LTLosAngeles) June 6, 2016
'Genius' is the debut feature film of British theatre director Michael Grandage who had already worked with Kidman and Law in the past:"It's really cool to work with people you know because you don't have to spend a lot of the film getting over that thing of having to get to know them first because we've got each other's trust, which is very helpful," said the director.
'Genius' is on worldwide release.