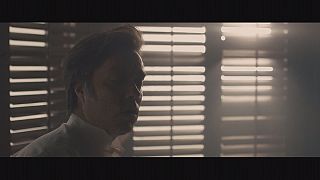 It's a high-risk labour of love that pays off according to some critics.
'Take All My Loves: 9 Shakespeare Sonnets' is the latest studio album by Canadian singer-songwriter Rufus Wainwright, released to coincide with the 400th anniversary of William Shakespeare's death.
Featuring adaptations of sonnets by the famous Bard, it brings together major opera stars, actors and singers.
"I wrote most of these songs around 10 years ago for a Shakespeare production in Berlin with the Berlin ensemble and people just kept asking to hear them. And San Francisco symphony commissioned five of them to be classically arranged, so I did that. They have this life of their own and then, lo and behold, I had this gap during this period, and an album I had to make, and we put two and two together and came up with nine," explains Wainwright with a smile.
Famous collaborators on the album include celebrities like Carrie Fisher and Helena Bonham Carter. Perhaps the most recognizable voice is that of Florence Welch of Florence And the Machine, who recently took to the stage in London together with Wainwright to perform their track, 'When in Disgrace with Fortune and Men's Eyes'.
"I think the best way to listen to the album is with an instinctual ear and a visceral heart. I'm not an intellectual in this case – I can be in others – but not in this one because to try to match Shakespeare or challenge him in terms of wits is pretty stupid. So just sit back and enjoy."
Wainwright has divided opinion with his latest venture, with some critics saying Shakespeare's poems are best left as such, being too densely packed to unfold in song.
'Take All My Loves: 9 Shakespeare Sonnets' by Rufus Wainwright is out now.