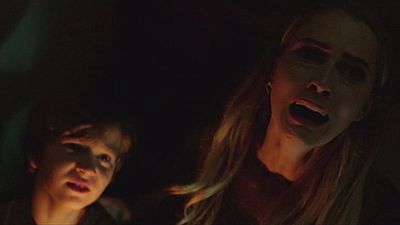 What do you do when the lights go out? Well, director David F. Sandberg would like you to scream, and scream often with his latest horror offering, which attempts a new twist on the trope of ghostly stalking.
It stars Teresa Palmer, who between last December and next September, has a remarkable 10 Hollywood movies coming out.
The movie is based on the simplest of ideas. We've all been there.
"Well, it was just based on something that just happens a lot at home. You turn off the lights. You see something there in the dark. You have to turn on the lights again to check what it is, and it's nothing. We wanted to make a little short where it was something in the dark," she says.
In fact Sandberg has developed his two-minute Swedish short which picked up prizes in 2013 and got millions of hits as it went viral on the web.
Among those who saw it and was impressed was producer Lawrence Grey.
"I saw the short film online when it first debuted. I watched it in my brightly lit office on a bright sunny day. And it scared the hell out of me. And I knew that there was something there, 'cause I'm not easy to scare. And then I woke up in the middle of the night thinking of this short, and I had to email the director the next day and said, 'You've done something that has viscerally hit me like nothing I've ever seen before. Can we get on the phone and talk about it?' "
Palmer's mother, who suffers from a split personality and around whom mystery swirls, seems to act as a magnet for the unwelcome visitor. She is played by Maria Bello.
"My character is Sophie. And she is the mother, who is schizophrenic, and has gone off the rails. And you don't know quite understand what is happening to her except that is battling her demons, and she has a friend named Diana. But what Diana is, is up to the audience to decide."
"Lights Out" hits the cinemas this summer.