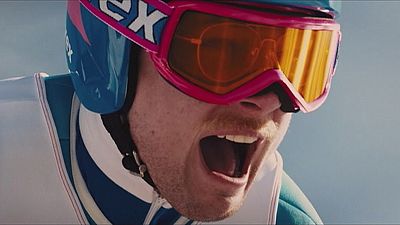 Ridiculed at the time by fellow competitors and the public alike, in the late 1980s Briton Michael Edwards became a household name when, against the odds, he became Britain's first Olympic ski jumper.
With little technique and no British tradition in the discipline, and dubbed "Eddie the Eagle" by a press eager to sit back and watch the feathers fly, he came last in Calgary on the 70 and 90 metre hills. An heroic failure, the sort of story Hollywood loves.
"I was worried that they might either turn me into some sort of superhero or worse – an object of ridicule, like a clown or a joke. But when I first saw the film, for the very first time, I was just blown away by it. They'd just done such an incredible job. They've really kept the heart and the spirit of the story and it's more true to my life than I first anticipated and first thought," says Edwards today.
In the movie Edwards is played by Taron Egerton, and is coached by Bronson Peary, played by Hugh Jackman.
"And Hugh Jackman is kind of all of my ski-jumping coaches all rolled into one. They weren't as good looking as him but I had about 20 coaches, or 20 or 30 coaches over the 22 months and there was a bit of Hugh Jackman in all of them, or his character," adds Edwards.
At the time the stunt jumping world record holder and world number nine speed skater, facts overlooked by the media, Edwards was a decent downhiller too, just short of national selection, and had bags of guts.
His jumping was entirely self-financed, and he only learned of qualification while working as a plasterer and living on the cheap in a Finnish mental hospital. Some said he should have been a patient.
"I tried not to create a film that doesn't do justice to what he achieved and who he is and who I feel he is, in terms of this inspirational guy who, from a not particularly advantaged background, managed to get to the biggest show on earth – the Olympics – and achieve his ambitions which really is what's at the heart of the film," says the movie's director, Dexter Fletcher.
Could this movie be 2016's "Cool Runnings"?
It has got a pre-release boost from Jackman himself, just credited for some real-life heroism of his own after reportedly saving someone from drowning in in his native Australia.
The film gets its main European release at the end of March.