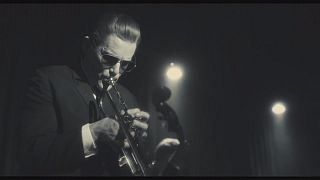 "Born to be Blue" is about the life and career of the American jazz musician, Chet Baker. Ethan Hawke plays the lead role of the charismatic jazz icon. The music drama is not a typical cradle-to-grave biopic; the film follows the highs and lows of Baker's career, his heroin addiction and his attempts to stage a comeback in the 1960's.
The film premiered to strong reviews at the Toronto International Film Festival last Autumn, and has now had its official premiere in Los Angeles.
"There is kind of a simplicity in the way Chet plays that is disarming," explains Ethan Hawke. "My respect for it grew as I studied and kind of went down the rabbit hole to study his influences such as Charlie Parker, Miles or all these people that he admired. There was such an unbelievable simplicity to him that the more you get into it, the harder you realise it is to do."
In the 1950's, Baker began using heroin, and this became an addiction that lasted throughout his life. He ended up in prison several times on drug charges. At the end of the sixties, Baker was savagely beaten when attempting to buy drugs in California – all his front teeth were broken and this ruined his embouchure. He was beaten up another time leaving him unable to play his Flugelhorn. With fitted dentures he then had to work hard to get 'his sound' back.
In the movie, the Canadian film director, Robert Budreau, mixes fact with fiction to recount a few month in Baker's life. Hawke studied playing techniques to appear convincing when covering Baker's solos, the real playing is done by Kevin Turcotte, one of Canada's top trumpeters.
"Born to be Blue" arrives in cinemas on 25th March and on demand 31st March.
Movie Review: Born to Be Blue—a beautiful impression of Chet Baker's life https://t.co/gi2Iqvy5T9pic.twitter.com/lhZ3SMMwXJ

— Paste Magazine (@PasteMagazine) March 23, 2016