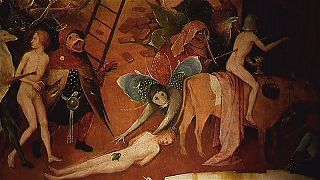 A lesser-known regional museum in the Netherlands, the Noordbrabants in Den Bosch, has pulled off the coup of assembling one of this century's most complete shows of the work of the hallucinatory Hieronymus Bosch.
Twenty of his 24 known works are on display; having come from Madrid, Venice, and New York, returning to the city where the artist lived from 1450 to 1516.
Bosch's art leaves an indelible impression, as it was intended for sinners in his time of illusions and visions, weird creatures and nightmares, temptation, sin and the final reckoning.
"Hieronymus Bosch is an outstanding artist because his originality and his creativity is so enormous, he is inspiring artists all over the world till today, so 500 years after his death he is still living, and that is thanks to his originality, the way he depicts the most strange dreams of men," said museum director Charles de Mooij.
Little is known about the artist; few records exist, so curators had a task on their hands when, in 2001, they decided to celebrate the 500th anniversary of his death.
"Hieronymus Bosch was actually not called Hieronymus Bosch, but Hieronymus van Aken, a town in Germany where his family came from. And at a certain moment in the 15th century, the family located themselves in the city of 's-Hertogenbosch and therefore Bosch named himself Bosch. He was called Hieronymus, but he called himself Bosch.
"So he's called Bosch because he was living and working in the town of 's-Hertogenbosch," explained exhibition curator Dr. Matthijs Ilsink.
Such is the interest in the artist 90,000 tickets were snapped up in pre-sales for the show, some 50 kilometres south of Amsterdam, which ends on May 8.