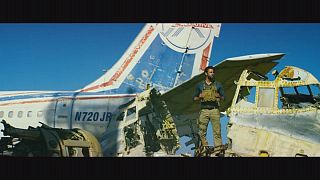 '13 Hours: The Secret Soldiers of Benghazi' is based on the true story of six members of a security team who fought to defend the American diplomatic compound in Benghazi, Libya after a terrorist attack on September 11, 2012. U.S. Ambassador J. Christopher Stevens and three others were killed in the assault by a heavily armed group of Islamist militants.
At the movie's world premiere in Dallas, director Michael Bay – best known for sci fi thriller 'Armageddon' (1998), war movie 'Pearl Harbor' (2001) and several 'Transformers' films, explained that he has a lot of experience with military action scenes: "Even though it is a really tragic night, it's hugely inspirational and, for me, working with a lot of these special operators for so many years – I was in the military for 20 years – I knew a lot of this type of people, and they are a very special breed of person. The movie really examines selflessness and we show you the facts, we lay it out."
Actor John Krasinski prepared for his role by spending time with survivor Jack Silva, a US Navy SEAL whom he plays in the movie: "It was truly a tremendous and emotional experience for me. I have never played someone real, I have never played someone going through something this intense and also this highly politicized. So for me the most vital part of taking this role was I had to meet the real guy, and I met Jack Silva, whom I play, and he was so unbelievably generous to give over all the information that I wanted."
Silva joined the stars at the premiere. He remembered what it felt like seeing the movie for the first time: "I remember Michael Bay coming up to me and saying 'What did you think?' And I said 'You know what, I feel awful right now, I feel empty.
"He was worried and I said 'No, it's a good thing, you transported me back to Benghazi. I went back to Benghazi… But it also reminded me of things that happened to me in Iraq and Afghanistan, in Pakistan, when I was in Yemen, when I was in Jordan', I said. 'And that is what I needed to feel.'"
Opening to luke warm reviews in the US, '13 Hours: The Secret Soldiers of Benghazi' is on global release now.