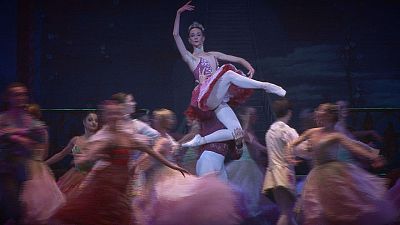 Among its remarkable gems, both natural and artistic, Naples can boast Europe's oldest opera house, Teatro San Carlo. To see out 2015 and welcome in the new year, it staged one of the most spellbinding classical ballets, Tchaikovsky's "Nutcracker", originally choreographed by Marius Petipa and Lev Ivanov.
Musica went to meet Anbeta Toromani and Alessandro Macario,
the dancers giving life to the most dream-like characters of this romantic fable.
Alessandro Macario: "In this fairy-tale I am the classic prince; she is the Sugar Plum Fairy."
Anbeta Toromani: "I'm a delicate, ethereal creature… sweet but not too overly so, elegant…"
AM: "He's a prince with a kingdom; he's tall, distinguished, well-dressed, with a horse… Actually, I don't have one!"
AT: …blonde, blue eyes…"
AM: … blonde, blue eyes… The typical Neapolitan prince! Just kidding!"
"The 'Pas de deux' in "Nutcracker"… actually, the whole score, has such a musical dimension… and therefore amazing dancing possibilities… it's really a dream for dancers. Interpreting the ideas expressed by the music through the dance and the steps, is quite difficult. You really try to express grace, lightness. It's not easy while you're making a physical effort, which should look smooth and natural… well, that's the magic of ballet!" said Toromani.
"Dancers have a language of their own, quite a complex one, in fact. We make certain movements, we mimic actions and feelings that need to be explained so as to be understood. I'll give you an example: he's my fiancé… like in (the ballet) Giselle, but it needs explaining!" she added.
"Those who love ballet, love it in earnest. And once you're in love with it, it's difficult to stop, even when they tell you 'forget it, you have no future', you just keep on; this is why it's so beautiful, I think, you fall madly in love with it, and all sacrifices – which everyone does, in fact – are forgotten. And, finally, ballet really makes you dream, and more than anything else!" said Toromani.