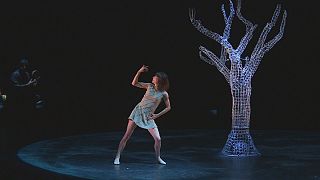 A diminutive and domineering diva. Slight and vulnerable. Athletic and awe-inspiring. Just a few of the myriad of adjectives variously used to describe Sylvie Guillem.
I want to stop while I'm still happy doing what I do with pride and passion.
Many would argue over how much or how little they apply but there can be no doubt over the 50-year-old's impact on classical ballet or contemporary dance.
"Life in Progress", Guillem's last European performance, took place in Austria. Shortly, after a few dates in Japan, one of the world's foremost dancers will take her final bow.
Musica went to meet the once-in-a-generation artist to talk about her past, present and future; as well as her ecological commitment, starting with the subject matter of the last piece choreographer Akram Khan created for her.
"I think it's about the lack of understanding, failure, the inability to listen to and to look at the world. It's about a sort of silent dialogue with the tree on stage… and it's about the longing to be united, the longing for understanding and therefore to save each other… at least this is what I tell myself in my mind, in my body, as I follow the music… that's what I feel."
For decades, Guillem's often been described as an era defining ballerina and being the best has meant maintaining the highest standard. She was famously dubbed "Mademoiselle Non" during her time at London's Royal Ballet; partly for being seen as "difficult with an explosive temper" but also for her refusal to budge on creative issues. Now wisdom and experience allow her to view things differently.
"I could just tell myself: 'these are my last performances, relax… even if it's not perfect. I could do that, but I don't. Although a show is never the same again. You know, it could happen that I slightly stumble, or make tiny mistakes. I accept them better now because they are minor imperfections that could contribute to the final emotion. And this is something I've learnt to accept."
Sylvie has always wanted to touch people through her dancing. Now that desire is equally being expressed through Sea Shepherd, a conservation charity for which she's on the media advisory board.
Since becoming a vegan Guillem has been championing the ecological cause: "I don't go to the supermarket because this is what is destroying our planet, this is what is destroying us, and this is causing major suffering ; it has destroyed skills, jobs, it produces so much pain to animals, and when I became aware of all that I just couldn't believe humankind could do something like that! I do not want to be part of that destruction."
But life away from the stage still holds many mysteries for Guillem. "Of course I have ideas about the future because my life goes on even if a major part of it is going to stop, but I don't want to plan anything – it would mean avoiding an important moment of my life that has to be lived through. So, I need some time to stop and understand who I really am, and what I want to be without dancing. I want to stop while I'm still happy doing what I do with pride and passion".