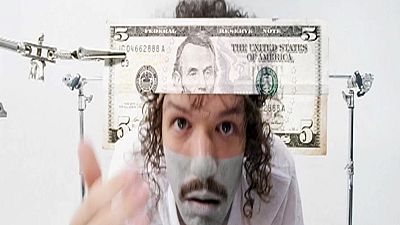 'Double Down' is Darwin Deez' third album and a return to the style which earned the New York indie band a steady following back in 2010.
Released in September, the album was recorded, performed and mixed in frontman Darwin Deez' New York home, and the experimental singer-songwriter says it's nice to be home after his second album, which marked a departure from the short, snappy songs on his self-titled debut.
"It's mostly a recapitulation of the simple three-minute pop approach that I was working on on the first record, that I took a break from on the previous record. 'Songs for Imaginative People' was a break from that into more harmonically adventurous progressions and key changes between verses and choruses and structurally different things," he explains.
While his style may not be mainstream, Deez feels his songs will stand the test of time: "I feel really good about my songwriting. I really stand behind it. And I know that there's so many other musicians who are making more money than me and I'm definitely wanting to make more money from it but I think, from a different perspective, what matters more is the staying power of the songs."
Darwin Deez are currently touring the US to support their new album, 'Double Down', out now.