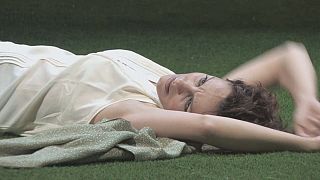 "Madame Bovary" is considered a masterpiece and a seminal work of realism and as such one of the most influential works of fiction ever written.

Tiago Rodrigues faz a sua entrada – "meio suicidária" – no D. Maria II http://t.co/S3eCoSERJHpic.twitter.com/PLBu8yjTq7

— 1001Pts Portugal (@1001ptsPT) September 11, 2015
However, when first serialised in 'La Revue de Paris' in 1856 the public prosecutors charged Flaubert with obscenity. The trial and Flaubert's acquittal gave the book a notoriety that boosted sales.
The trial is the starting point of a new production by Tiago
Rodrigues the new director at the National Theatre of Lisbon:

Tiago Rodrigues revisita o universo de Madame Bovary http://t.co/VgmEd6fROBpic.twitter.com/oDVaFpvTGG

— e-Cultura (@eCultura_) January 13, 2015
''When Flaubert first serialised the novel he was accused of immorality and insulting religion and went on trial in Paris. When I read about the trial I discovered the lawyers read aloud from the book and commented on the passages that, 150 years later, still touch us, it's the danger inherent in Flaubert's writing.''
Tiago Rodrigues made waves with his adaptation of Shakespeare's tragedy 'Antony and Cleopatra performed at the Avignon Theatre Festival in July this year to great critical acclaim.
The director merges theatre, dance and literature and creates simple, but striking sets with experimental staging.==
#photo#scène#stage#théâtre#theater#tiagorodrigues#byheart#tpr#sonyRX100m3 > https://t.co/XkGf6NLymFpic.twitter.com/OCxnU5Tv8u

— Pascal Bernheim (@pascalbernheim) November 4, 2015
==
His new piece reflects on the revolutionary power of art: ''In a way this piece vindicates the prosecution. In 1857 he warned that we had to be careful with Flaubert's writing it was contaminating people. There is danger in art because art permits us to dream of things we are forbidden to dream of in daily life.''
Premiered in Lisbon 'Bovary' moves to Porto in Portugal until mid-December. Other works by Rodrigues are currently touring across Europe in France, Spain and Scotland.
http://www.mundoperfeito.pt/

As "trigédias" gregas de Tiago Rodrigues chegam ao palco do TNSJ. #cultura#tnsjhttp://t.co/KVaAYyWGrGpic.twitter.com/RysnhuY94j

— CentraldeInformação (@centralinf) October 16, 2015