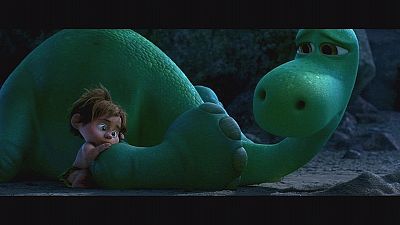 'The Good Dinosaur' sees Pixar delve into prehistory with a dinosaur tale.
The film imagines what might have been if the asteroid that altered the direction of life on earth had missed the planet.

Watch one of the saddest scenes from Pixar's The Good Dinosaur https://t.co/GIPhmCEmh2pic.twitter.com/08pwCRDh6x

— IGN (@IGN) November 20, 2015
'The Good Dinosaur' marks the directorial debut of Peter Sohn.
He says the giant reptiles have fascinated him since he first fell in love with them as a boy:
"It's just one of those things that when you go to a museum and you see these fantastical skeletons and somebody tells you "those were walking around" and you're like, I can't believe that. And then, you know, the variety of the species is just incredible and the fact that they were here for millions of years."

Guests are arriving to our @TheGoodDinosaur meet-up at Disney Springs! #GoodDinopic.twitter.com/u64yyIxa69

— Disney Parks (@DisneyParks) November 22, 2015
There are plenty of quirky characters such as the grumpy senior Tyrannosaurus Rex and group leader voiced by Sam Elliott: "I think this film is a very kind of a human story. You know, that's very common to all of us, particularly the fortunate ones among us that have children, that have a family that's holding together – whether they're having a tough time or whether it's good times, family is family," said the actor.
'Quiz: Which Character from @thegooddinosaur Are You Most Like?' #DinoWeek: https://t.co/f2mL5p9HnKpic.twitter.com/C6GxLuWCG7

— Disney•Pixar (@DisneyPixar) November 22, 2015
The 'Good Dinosaur' is doing the rounds now.