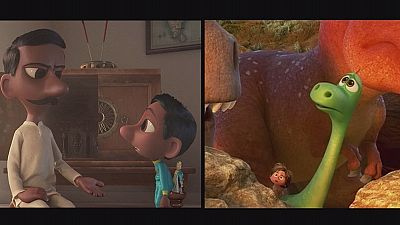 'Sanjay's Super Team' is Sanjay Patel's directorial debut. The Indian-American director joined Pixar in 1996 as an animator on 'A Bug's Life' and has worked on several films since, including 'Toy Story 3', 'Monsters, Inc'. Though he had never directed before, his story and sketches won over Pixar boss John Lasseter.
Patel, who is also the creator of children's books about Hindu mythology and culture, says the seven-minute film is partly autobiographical.
"John Lasseter started asking me about how I grew up and I told him a little bit about me and my dad and how every morning my dad would worship his gods in a shrine and how I would worship mine in the TV… we just happened to be in the same room. And I showed him (Lasseter) a drawing that I made that kind of illustrated the same idea, and straight away, once he heard the idea of a kid that was kind of ignoring his roots, and kind of the real history of me and my dad and how we grew up, he just felt like this is it. He loved it."
According to the producer of 'Sanjay's Super Team', Pixar always values the power of a good story, regardless of where it started: "The truth is, Pixar promotes telling stories from good storytellers, and certainly they want to have more inclusion, they're open to that, but it always comes back to, 'Is there a good story there?'," says Nicole Grindle. "Sanjay's been there for 20 years. I mean, I think for the studio and for all of us, inclusion is about seeing the storytellers who are already there, and selecting them and moving them forward."
Patel's short is due out later this month along with Pixar's latest feature 'The Good Dinosaur'. It tells the story of a young dinosaur named Arlo who befriends a human in a world where dinosaurs never became extinct. While traveling through a harsh and mysterious landscape, Arlo learns the power of confronting his fears and discovers what he is truly capable of.