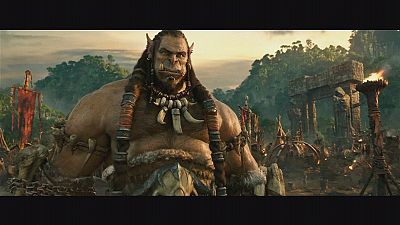 Based on the hugely popular video game, Warcraft the movie is set to hit the big screen next spring.
In development since 2006, the film tells the story of the original encounter between humans and Orcs. The long-awaited trailer gives the first proper look at the vast world of Azeroth and the arrival of fearsome Orc warriors fleeing their dying home.
The film is written by Blizzard Entertainment vice-president Chris Metzen: "The game has been really loved for a long time by the Warcraft player base and I think we at Blizzard still don't quite get our head around how sacred that is but we just had this instinct all along that we just wanted to share this story, this world of Warcraft, with everyone around the world," he said at the BlizzCon video game convention in California.
Made up of five core games, Warcraft has a devoted following around the world, so the pressure's on to keep fans satisfied.
"The Warcraft movie is made by the people who know the world, so it seems like they know what they're doing, I think there's a lot of heart in it so hopefully it will be pretty good," said one gamer at BlizzCon.
"I'm mostly excited to see basically how the story started because they're starting from the very beginning of Warcraft, so I'm just interested to see how they tell it compared to the game," said another.
But the challenge is also to make sure the film appeals to non-gamers less familiar with that world. Activision Blizzard Inc has announced the launch of a film and TV studio to create original content based on its popular videogame franchises in a push to expand beyond games.
The film's acclaimed director Duncan Jones, himself an avid gamer, says his knowledge of the product is the key to why the film won't disappoint fans as it stays true to the spirit of the game.
However gamers will have to be patient as 'Warcraft' isn't set for release until May 2016.