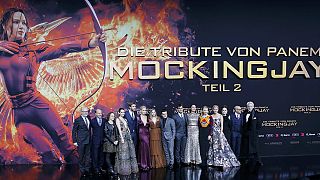 Berlin hosted the world premiere of the fourth film of the Hunger Games series, 'Mockingjay – Part Two', attended by crew and cast including Jennifer Lawrence, Donald Sutherland and Liam Hemsworth.
Based on Suzanne Collins' young adult novels, the films have won a global following since their launch in 2012.
The movie marks the final chapter in the hugely successful saga that has seen Jennifer Lawrence — at 25 already an Oscar winner and one of the world's highest-paid actress — catapulted to fame.
"I haven't been able to process that this is the last world premiere," said Lawrence on the red carpet. "Oh my God, it's the last world premiere. Oh my God, that's so sad."
Francis Lawrence who directed the last three movies of the saga talked about what he will miss most: "I think the connections, the connections with the actors and the crew, you know, there was a real bonding, you know. And so it was a really great, creatively fulfilling experience but to connect with the cast and the crew in the way we did was fantastic."
"It's the family we created. I mean, me, Jen [Lawrence], Liam [Hemsworth], Woody [Harrelson], Francis [Lawrence], we're all very close and we see each other as much as we can but it's different when you're filming a movie, you know? When you're filming a movie it's 12 hours a day, you know, five days a week being together so I'm going to miss that closeness for sure," said actor Josh Hutcherson.
For actor Stanley Tucci, there are several reasons for the success of 'The Hunger Games': "I think it that it connects with people worldwide, particularly teenagers, on a visceral level, but also on a social-political level. And I think they're also just good movies."
'Mockingjay – Part 2' sees Philip Seymour Hoffman in his final role and Lawrence's character Katniss Everdeen try to lead the rebellion against the totalitarian government of District 13.
The fanchise has grossed more than 2 billion US$ at the global box office, a figure that is expected to rise considerably with this last movie.