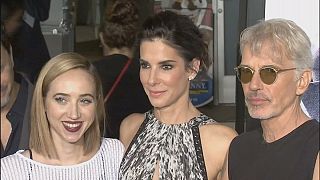 In 'Our Brand is Crisis', award-winning actors Sandra Bullock and Billy Bob Thornton team up as US spin doctors who sign on to help candidates in Bolivia's presidential election.
The stars hit the red carpet in Hollywood for the premiere of the film, which is co-produced by George Clooney, for whom Bullock's role was originally intended. The movie is based on true events, when candidate Gonzalo Sánchez de Lozada running for a second mandate in Bolivia in 2002 hired US political consultants to achieve his goal.
"Politics is a backdrop but it is more about consequences, big business, how far is too far. When you start harming others for power and extreme wealth, eventually you have to get off the carousel. Who is going to grow a conscience and who is going to say enough money is enough money. It is more about big business than it is about politics," said Bullock.
Sandra Bullock and Billy Bob Thornton's characters are long-term rivals, but Thornton said the real-life Bullock was a pleasure to work with.
"We knew each other a little bit. We never worked together before, she is an easy person to be around. You have to get up to being kind of nasty to her every now and then, that's the hardest part of it. Because it is hard being nasty to Sandy," said Thornton with a smile.
Based on a 2005 documentary of same name, the film has opened to mixed reviews. While Sandra Bullock's spin doctor character has been described as "easily one of the best female roles of the last 10 years", critics of the film have branded it a hard-working comedy that fails to deliver.
Out now in the US, 'Our Brand is Crisis' is on global release early next year.