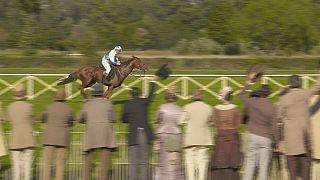 Shooting is underway on the most expensive Hungarian movie of all time.
Set during the Hapsburg reprisals after the failed Hungarian revolution of 1848, the film centres on the rivalry between a Hungarian aristocrat and an Austrian army officer, and plays out in racecourses across Europe.
"The film is set at the end of the 19th century, which means wherever we shoot, we cannot find any location suitable for the film, we have to alter more or less everything. We must check every little detail, from the hair to the costumes and the make-up to make sure we are faithful to the historical period," says producer Tamás Hutlassa.
The film is named after the most successful Thoroughbred race horse of all time, Kincsem, a national icon in Hungary.
Actor Ervin Nagy plays the horse's owner, Hungarian aristocrat Ernő Blaskovich: "I vowed vengeance as a child against the Habsburg Empire. That's what keeps me going through the film because my father was killed in the cleansing after the Hungarian Revolution and I want to take revenge. And since the action is set after the Austro-Hungarian Compromise, the only place I can take revenge is on a racecourse," explains the actor.
Blaskovich's enemy is his father's murderer, Austrian army officer Otto von Oettingen, played by Tibor Gáspár: "He is a sinful man, who took part in the retribution following the Hungarian Revolution," says Gáspár of his character. "The action is set a significant time later, he has become an important man, he is president of the Imperial and Royal Horse Society. He owns race horses and is accustomed to winning."
The two men's feud is fuelled by a stormy romance between Blaskovich and von Oettingen's rebellious daughter, Klara, played by Andrea Petrik. She says the movie's themes are timeless: "This film is very modern. It is about betrayal, love, friendship, perseverance, modern issues told in a modern way."
The 10 million dollar production, funded mostly by the Hungarian Film Fund# marks director Gábor Herendi's return after a seven-year absence.
"A high budget doesn't mean we're playing in a paddling pool. We're working on a very, very tight budget," he says. "Of course, it's a lot of money compared to other Hungarian films, but expectations are also very high. We are competing with America. This film should look like a Hollywood production and we're doing our best."
'Kincsem', the most expensive movie every made in Hungary, is set for release in 2016.