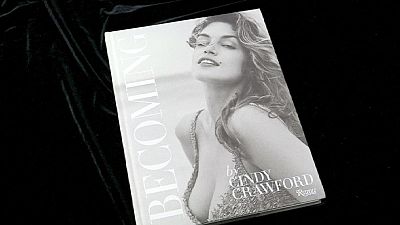 A long line snakes along a New York street, it's not a queue for the latest smartphone. People are lining up to meet American supermodel Cindy Crawford as she promotes her new book 'Becoming' in New York.
At 49-years old Crawford decided to tell the story of her life in a 200-plus-page book featuring 150 photos.
Cindy Crawford opens up about wanting to remove her trademark mole & her marriage http://t.co/LSNeR1Jxbxpic.twitter.com/ekes74UdQe

— E! Online UK (@EOnlineUK) September 30, 2015
"You know different people had approached me about trying to do a book and I just couldn't figure out what type of book I wanted to do. And a couple of years ago we were talking about my 50th birthday coming up in a few years and we just hit upon this idea – you know, photographically I wanted to celebrate where I've been. But also I wanted to celebrate the lessons I learned along the way."
Crawford's rise from unknown to most-sought-after model began when she was just 17. It was in the 80s and 90s that her career went stratospheric, taking to the catwalk with the original supermodel crew. She now has two children with businessman and former model Rande Gerber. Her daughter Kaia has already made various forays into modeling.
Supermodel—& mom—CindyCrawford</a> & daughter <a href="https://twitter.com/KaiaGerber">KaiaGerber talk careers, clothes, & closets http://t.co/1npmnrYndHpic.twitter.com/aK2TGYnRDy

— The Thick (@TheThick_) September 30, 2015
"The best advice I could give (my children), and it would really be no matter what job they decide to do is just to be professional. Show up on time, be ready to work. Be a team player, be collaborative. And then the other stuff if they do end up in front of the camera, my son likes taking pictures as well, so he might end up behind the camera, they have to find that for themselves."
Having been snapped by Herb Ritts and landing her fair share of Vogue covers, Crawford quit full-time modeling in 2000. She admits that writing the book was a way of ending a chapter of her life, saying she has nothing left to prove in fashion photography. Although she says she will continue shoots for her make-up and furniture lines.