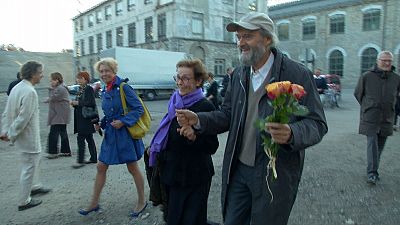 He is the most performed living composer in the world.
A devout Russian Orthodox, Estonian composer Arvo Pärt, who turned 80 this year, is often described as mystical, monk-like and reclusive.
He made his name in the Soviet Avant-Garde period with musical experimentation, inventing his own form of music called Tintinnabuli. While his music is in part inspired by Gregorian chant, its universal appeal transcends genres.
"His music makes you feel and think. You can't just hear this music, but you have to listen to this music," says Annu Kivilo, Director of the Arvo Pärt Centre.
"It is playful, beautiful, very beautiful, but also very demanding. It's just wonderful music," says Mikko Fritze, Director of the Goethe-Institut Finland.
Pärt's music became internationally renowned as he was forced to emigrate from Estonia to Vienna and then Berlin in 1980 with his wife and two sons after a prolonged struggle with the Soviet authorities.
His encounter with German producer Manfred Eicher from ECM Records led to the recording of the world famous composition 'Tabula Rasa' with Keith Jarrett and Gidon Kremer.
Today, musicians as varied as PJ Harvey, Rufus Wainwright and Nick Cave all claim him as a major influence on their work.
Estonian conductor Tonu Kaljuste, who knows him wells, says his friend has this magic touch: "It's difficult to explain, but it happens for some composers, with some artists. In our noisy time, I think that Arvo Pärt brings us closer to silence. And his music gives balance for many many people."
2015 has been a busy year for Pärt, with concerts, TV broadcasts and special renditions of his work, as well as two documentaries.
For 'The Lost Paradise', the composer allowed a camera to follow him for a whole year. The documentary is framed by the stage production of 'Adam's Passion', a music theater piece featuring three key works by Arvo Pärt and brought to the stage by US director Robert Wilson.
While you may not recognise his name or be sure you have ever heard his music, chances are you most probably have: his compositions regularly appear in film scores, ranging from documentaries, to arthouse movies and Hollywood blockbusters like last year's Oscar-winning 'Gravity'.