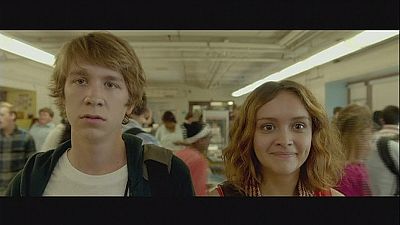 After taking home the Grand Jury and Audience awards at this year's Sundance Festival, indie drama 'Me and Earl and the Dying Girl' is hitting screens in Europe.
Based on the debut novel of the same name by Jesse Andrews, it is a tender and funny coming-of-age tale about awkward senior highschool student Greg, and his unlikely friendship with Rachel, who has been diagnosed with leukemia.
Director Alfonso Gomez-Rejon, who was dealing with the death of his father at the time of shooting, says he felt an instant connection to the main character: "I saw a lot of myself in Greg. I think when you lose a parent, that relationship is one where you always feel like a child, so when that happens and you don't have the tools to really understand it, the film was this beautiful gift. And, like Greg, I'm on my way to putting myself together, but doing it while celebrating adolescence, celebrating cinema," he says.
"Certainly I think there's a saying: sometimes the most personal movies become the most universal films. I hope that if you've been through something like this, you'll find a comfort in it that you're not alone. I wanted to be respectful to the audience and not force them to feel, and give them an opportunity, certainly by the end of the film, to take their own journey," adds Gomez-Rejon.
'Me and Earl and the Dying Girl' is out this month in some European countries including the UK, Italy France and Germany.