Content provided by Rolex Partner,
Beginning 4 August, the Salzburg Festival will give a new production of Fidelio, the unique opera of Beethoven, with Adrianne Pieczonka and Jonas Kaufmann in the lead roles. A new production directed by Claus Guth, whom is praised for the accuracy and the theatrical dimension of its adaptations. While waiting to discover his interpretation of Fidelio in a few days, we analyze the work of this effective storytellers in opera.
Claus Guth is proof that, despite the naysayers, the world of opera continues to be a place of constantly renewed theatrical creativity: he devotes himself almost exclusively to opera, with an international career that, until now, had hardly set foot in France, aside from a few performances in Nancy or the presentation of Fierrabras on tour by the Zurich Opera at the Châtelet (but Stéphane Lissner should be bringing him regularly to Paris over the next few years).He is enough of a musician to be able to own his creations, and he has done so often, especially in his early days; in the course of a nearly thirty-year-long career, he has of course had an opportunity to take on a very broad repertoire, from Salzburg to Milan and Zurich to Barcelona.
For him, sets and costumes are seldom anything that would cause conservative audiences to boo:from La Scala to Zurich, this contemporary elegance, which favours light colours and airy environments, is almost universally appealing, nourished by frequent and skilful use of the revolving stage; only the rather shabby-looking bus stop for Don Giovanni, created in Salzburg and reprised in Berlin and elsewhere, raised a few questioning eyebrows.The Marriage of Figaro,which he had previously staged in Salzburg for Mozart's birthday in 2006, was much more representative of this inoffensive style and the way he brings together the opposites that shape the opinions of music lovers. It is almost as if one could see in it a classic production, well done but not terribly original.But that production had a soul, an actor (Uli Kirsch) who in some way incarnated the emotional bonds between characters with the lightness of a feather.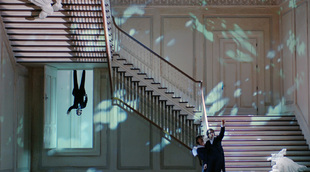 But there is something deceptive in the soothing impression one may get from photos of his shows:Guth often works from carefully developed concepts that build meaning at the level of the entire work.With Calixto Bieito, violence is often immediately apparent, physical; with Guth, it is at first masked by the smooth surface of his sets, which does not prevent his characters from occasionally experiencing their tragic fate with a force every bit as implacable.We could almost mention Maeterlinck, and Pelléas:with Guth, even though his sets are most often interiors, they always look like they are "still waiting for a great misfortune, in the sunshine, in a beautiful garden".
But this conceptual approach is not really a dogmatic one:on the contrary, his concern is with finding solutions appropriate to each work:to stage The Messiah in Vienne and later in Nancy, he imagined a complex narration that developed a whole world of associations in counterpoint to Handel's music and libretto; for Schubert's Fierrabras, a work weighed down by a libretto that is difficult to justify on the contemporary stage, he chose to bring in the character of the composer, struggling with the pangs of lyric creativity, which for him was never a fitness course; characters crushed by an immense set that swept them up, which went wonderfully well with the stuffiness and lack of dramatic life imposed by the libretto.But here the composer was not merely a factotum:Schubert's sad lyric passion was presented in relation to the whole of his biography; the male characters were both Schubert's alter egos and the main figures in his biography, his father and his friends.Some found that this distracted the audience's attention away from the issues with the libretto (and what issues!);it was nonetheless difficult to deny the consistency of this approach, or its ability to boldly take on the difficulties of a work to make it more accessible to today's audiences.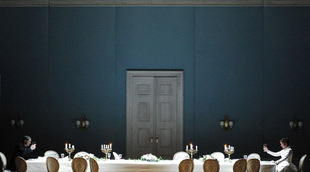 But this way of sidestepping history was justified not only by the uniqueness of this opera; with Guth, the general rule is to give very serious consideration to the story and its characters as they are.In Luisa Miller in Munich, the device was so simple as to be immediately apparent, while still requiring considerable quality in the execution.He made use of quite a different form of fascination, that of illusion:the singers were having to face extras acting as mirrors. Symmetry and mirrors are very dear to Claus Guth – in Zurich, the first act of Tristan featured two twin rooms, those of Isolde and Brangäne, themselves reunited by a disturbing twinship.In Luisa Miller, the splitting-in-two had quite a different meaning:the virtual mirror thus created, far from expanding the horizon, was the image of a sort of mental prison, intangible and insuperable.And the mirror reflecting your every gesture seems to know even before you become aware of it what your next move will be:one could hardly better illustrate Luisa's inability to get out of the plans laid down for her by all those men around her, her entrapment in social laws that she can't even rebel against.It is clear from these few examples that, despite the familiar impression his sets give, Guth is not one of those directors who have ready-made solutions.The simplicity and openness of his work does not inhibit the extreme refinement of the scenic devices he creates with his designers (often, Christian Schmidt); if it seems appropriate to him, he does not hesitate to lay his own tale over the narration of the libretto, but from one staging to the next he has proven to be one of the most effective storytellers in opera, and that ensures the gratitude of a very wide audience.
Dominique Adrian
You might also like